iJOBS Blog
By Natalie Losada
Today the media is filled with words like fake news, misinformation, alternative fact, lie, and deception. Any way you say it, the information is understood as not true. A lack of truth and clarity has been a huge concern during this pandemic, and it's one of the reasons I wanted to pursue a career in science communication. If you have been wondering whether science communication is the right career path, you clicked on the right article. Dr. Alli Aber, a Chief Medical Officer at Principal PRN EXPERTS, hosted an iJOBS workshop for exploring science communication (SciCom) careers.
The topics discussed included science communication in terms of your career path, differences between SciCom and advertising, and even included time for practice tasks in the SciCom field.  Dr. Aber started by comparing the array of options for non-traditional paths in pharma (where most SciCom jobs reside). With a Ph.D. you can enter the pharmaceutical industry and choose career paths like research, medical science liaison (MSL), or even medical affairs. Another option is to enter an agency and choose from SciCom and advertising. Both have the roles of editor, writer, and director; however, advertising has the additional role of strategist. The main focus of Dr. Aber's talk was agency careers; understanding the responsibilities of the four roles and completing a practice assignment for each role.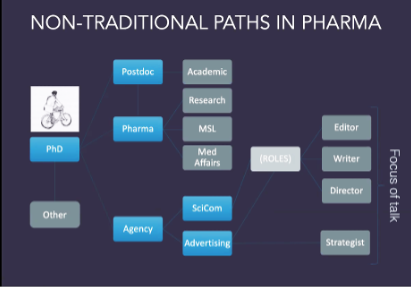 It might be safe to assume that if you clicked on this article, you have an interest in writing.  But perhaps you're unsure of what part of writing you like the most. The first thing to consider is how much experience is needed for each agency role. For example, an editor requires much less experience than a strategist.  You also must consider what type of tasks you enjoy the most.  If you enjoy the big picture aspect of content planning, then you know you want to be a strategist. But you will still likely have to start in an editor role to gain experience.  Dr. Aber provided a great chart comparing the different roles, shown in the picture below.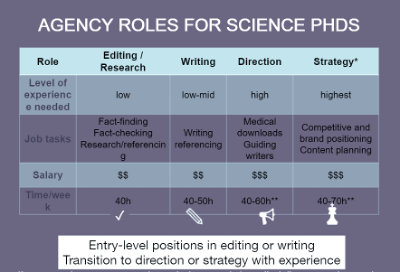 Screenshot 2 of Dr. Aber's presentation.  Agency roles for Ph.D.s and their required experience and paygrade.
If you're wondering what tasks you would enjoy more, Dr. Aber had explained the "PhD personality" for each of the positions.  We even took a quiz at the end of the talk to determine what our personalities were. The test was similar to a Myers-Briggs test and the personalities are described below.  We then completed an agency role-specific prompt based on our answers.
Editors/researchers are analytic, thorough, task-at-hand thinkers, sequential, process-oriented. 
Writers are amiable, thorough, bigger-picture thinkers, abstract, random, and enjoy interacting with people. 
Directors are drivers, quick workers, task-at-hand thinkers, concrete, sequential, and process-oriented. 
Strategists are expressive, quick workers, bigger-picture thinkers, abstract, random, and enjoy interacting with people. 
As you can see, there are multiple personality traits that overlap amongst these different positions.  Certain traits are useful in any field and you'll likely advance from the lower to higher positions in SciCom or advertising while using a lot of the same skills for different tasks.  Some examples of tasks and goals of these positions are below!
"You'll likely advance from the lower to higher positions in SciCom or advertising while using a lot of the same skills."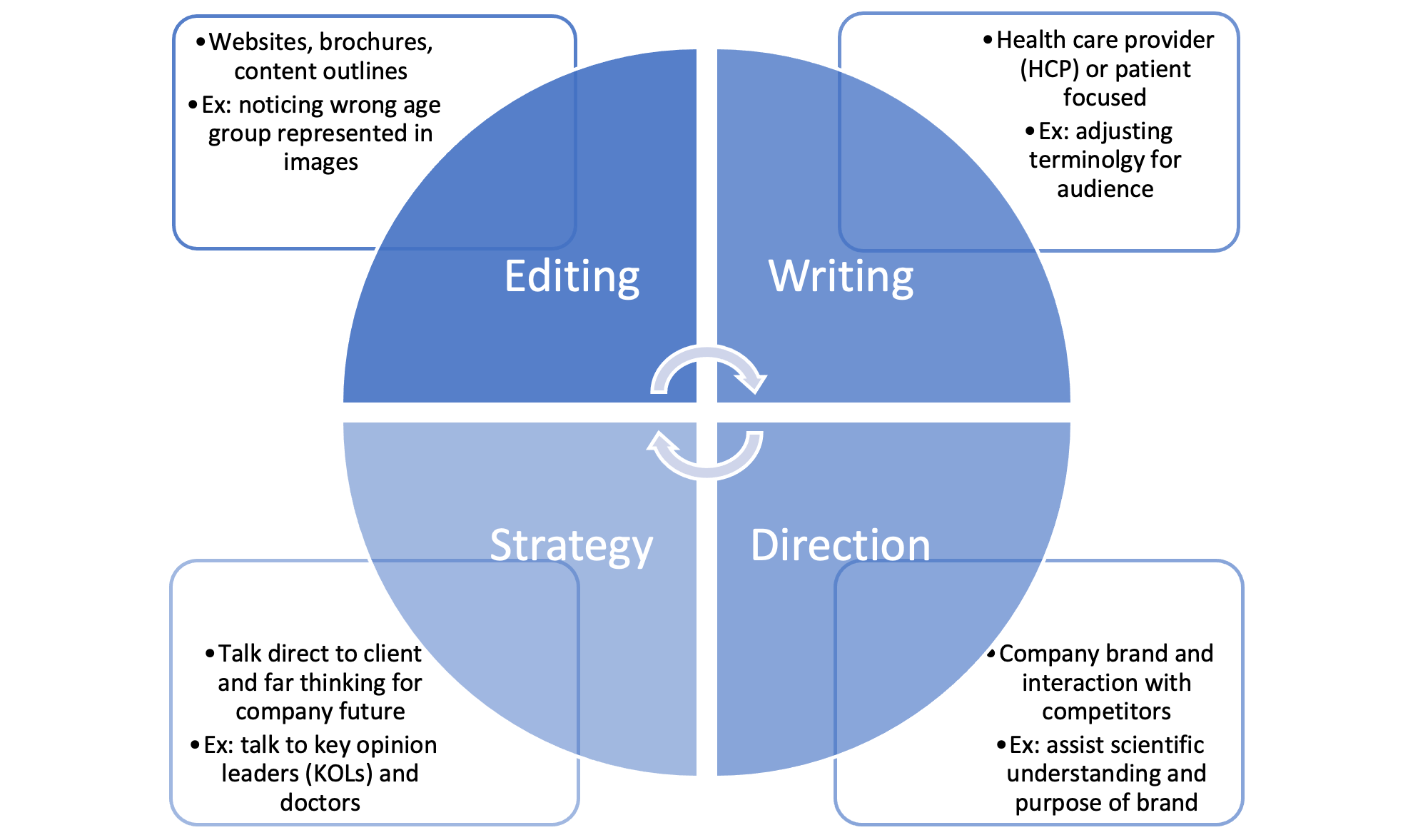 "Remember that writing is not the only way to communicate."
Now you might be wondering, if SciCom and advertising have many of the same roles, what is the actual difference between them? First, you can look at the ease of transition from PhD to each career.  Dr. Aber warned the group that while SciCom is an easier field to break into than advertising, both are difficult to near impossible without any experience coming out of you PhD. In SciCom you would be making or editing conference slides, abstracts, peer-reviewed journal articles, and grants.  You would also work with data and representing clinical results, all of which require focus on the science with little room for creativity.  Remember that writing is not the only way to communicate. In advertising, you would be creating website content, doing TV/radio spots, and making pitch decks and banner ads.  Advertisers need to bridge the gap between producer and consumer through ads/banners/websites, which allows a lot more room for creativity while trying to paint the story.  The next noticeable difference in these careers is the working environment.  If you work in SciCom, you'll usually work for for pharmaceutical or SciCom companies, surrounded by scientific peers with an overall aura resembling academia.  On the other hand, in advertising you'll usually work for ad or marketing agencies, accompanied by mostly non-scientists, with a more open feeling than academia.  Even within a single career path, there are multiple sizes of agencies you can be a part of with independent options as well.  Dr. Aber summarized them in this chart below.

There's a lot to put on your scale when weighing out different career options, but none of the many facets mentioned above should be forgotten.  Here are the important factors in your career path that Dr. Aber recommends focusing on:
Interests – what you enjoy or will enjoy in the longer term
Access/experience – to what careers do you have access with your experience?
Salary – finance and flexibility
Work environment –the tasks, work style, deadlines, coworkers, office or WFH?
Personality type – do you need more or less freedom? What type of scientist are you?
If science communication aligns with your values and work interests after considering all these factors, you can use the below checklist from Dr. Aber's recommendations for career transition. Make sure to update and tailor your resume to this check list!
Recommended tasks for transition from PhD to SciCom:
Checklist of recommended skills to transition from a PhD to a SciCom career (print out for yourself!).
This article was edited by Senior Editor Samantha Avina.
Related News