Meet the 2021-22 Fellows
Cesar Ramirez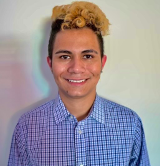 RISE/REU Scholar: Summer 2020
Program: Ph.D. in Biomedical Engineering
Cesar Ramirez obtained his B.S in Biomedical engineering from the University at Buffalo in 2021. At Buffalo Cesar started his research involvement through the Louis Stokes Minority Participation (LSAMP) program. His research at UB involved the development of new biomaterials for biomedical applications, where he presented his research at the University at Buffalo's undergraduate research conference and celebration of academic excellence. During the 2020 RISE program, Cesar participated in the REU for Cellular Bioengineering and worked on "Computational Control of Polymer Design" under the supervision of Dr. Adam Gormley, his now advisor. Thanks to Cesar's participation in the RISE program, he realized the research and environment at Rutgers were a perfect fit for the next steps in his career.
Jennifer Guzman

RISE/REU Scholar: Summer 18
Program: Ph.D. in Chemistry and Chemical Engineering
Jennifer Guzman Pichardo graduated from the City University of New York H. Lehman College with a B.S in Chemistry, specializing in Biochemistry, in the Fall of 2019. As an undergraduate, Jennifer worked with Dr. Andrei Jitianu on synthesizing melting gels to use as a replacement for chromium VI as a more effective and safe anti-corrosive coating. As a RISE scholar, she worked with Dr. Jonathan Singer in the Department of Mechanical and Aerospace Engineering on investigating the influence of different parameters to obtain good quality coatings by using electrospray deposition of melting gels on different substrates, particularly silicon wafers and AZ31B magnesium alloy. As a result of her collaboration at Rutgers as a RISE scholar, she co-authored a manuscript published in the SPIE Laser Application in Microelectronics and Optoelectronic journal in 2019. Her second co- authored publication was in the proceedings for ASME 2021 16th International MSEC. Jennifer decided to pursue a doctoral degree at Rutgers due to her experience during the RISE summer program, the broad research topics being explored, and the amazing faculty and students on campus. In the future, she plans to become a principal investigator and run her own mentorship program for minority women pursuing a career in STEM. During her free time, she enjoys working out and watching movies.
Erika McCarthy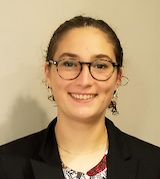 RISE/REU Scholar: '20
Program: Ph.D. in Chemistry and Chemical Biology
Erika earned her bachelor's in Chemistry at Stevens Institute of Technology. As an undergraduate in the Zhang lab, Erika used gaussian calculations to elucidate the mechanism of HNO generation from hydroxyurea . Erika was awarded the ACS Division of Physical Chemistry undergraduate award and the ACS Division of Inorganic Chemistry undergraduate award. Erika participated in the 2020 RISE program. Under the mentorship of Dr Stephen Burley, Erika's project concentrated on the Evolution of the COVID-19 proteome, "Evolution of the SARS-CoV-2 proteome in three dimensions (3D) during the first six months of the COVID-19 pandemic". Erika decided to attend Rutgers for graduate school because as a theoretical/computational chemist, she was very excited by the work taking place in the center for integrative proteomics research. In addition, the RISE program exposed her to the excellent faculty in Institute for Quantitative Biology and Chemistry & Chemical Biology.
Zoey Eddy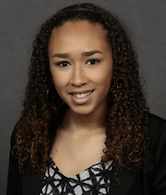 RISE/REU Scholar: Summer '20
Program: Ph.D. in Social Psychology
Zoey completed her Bachelor of Science degree in Psychological and Brain Sciences at the University of California, Santa Barbara. Her undergraduate research explored the influence of genetic information on perceptions of individuals with mismatched claimed racial identities: when someone claims a different racial identity than both of their parents.
Zoey is interested in the perceptions, experiences, and identity development of biracial/multiracial identities. She was a McNair Scholar and received the Psychological and Brain Sciences Distinguished Graduating Senior Award and Distinction in the Major Award. Zoey was a RISE 2020 scholar and worked with Dr. Diana Sanchez on a project examining the effect of parental racial socialization on multiracial children's pride in their identity. Her research experience with Dr. Sanchez led to her first peer-reviewed publication about how policies can address multiracial stigma. In addition to being named a SUPER-Grad Fellow, Zoey was awarded a highly competitive and prestigious Presidential Fellowship. Zoey was recently awarded two prestigious fellowships, a 2023 National Science Foundation (NSF) Graduate Research Fellowship and a 2023 Ford Foundation Predoctoral Fellowship. Zoey selected Rutgers for graduate school because of the collaborative research environment and the opportunity to learn from an expert in her research area.
Karen Mae Bacalia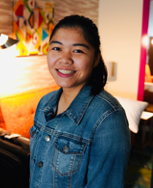 RISE/REU Scholar: Summer '20
Program: Ph.D. in Nutritional Science
Karen received two bachelor degrees in Chemistry and Agriculture - Human Nutrition and Food Sciences track with a minor in Biology from the University of Guam. She is interested in research that deals with gut microbiota in relation to cardiovascular disease or nutrient deficiencies. During her undergraduate studies, she participated in a summer research program in 2019 at Colorado State University where she focused on biochemical techniques to study iron deficiency in genetically modified Arabidopsis thaliana plants, and spent 2 years using High Performance Liquid Chromatography (HPLC) techniques to analyze anthocyanins in Hibiscus flowers and capsaicin in local peppers at the University of Guam Horticulture Lab. As an undergraduate, she was also the leader in multiple student organizations and participated in outreach to local high schools for both the Chemistry and Agriculture department, presented in research workshops to help freshman and sophomores interested in research, and helped coordinate the UOG First Annual CNAS STEM Conference. Karen won first place at AAAS 2020 where she presented some of her research. She participated in the Rutgers RISE program in summer 2020 where she worked with Dr. Nilgun Tumer to study the ribosomal interactions of Shiga toxins by analyzing surface charge differences. Since her Rutgers experience was completely virtual, she is excited to experience the campus and labs in person this semester. Rutgers was her top choice for graduate school because of the interdisciplinary nature of the research labs and their focus on supporting graduate students for future success. Her hobbies include trying new foods with friends and family, baking, running, and free diving while on Guam.
Nathalie Groot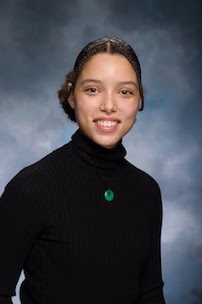 RISE Scholar: Summer 2019
Program: Ph.D. in Microbiology and Molecular Genetics
Undergraduate Studies: Virginia Tech
Thesis Advisor: Dr. Gaëtan Barbet
Ph.D. Research Topic: Calcium Signalling in Dendritic Cells
Support post Super Grad Award, other notable Awards, fellowships, publications or accomplishments: Initiative for Maximizing Student Development Fellowship Recipient (2021-2023).
Current status in graduate program/Expected graduation: Ph.D. student
Advice for prospective graduate students: Staying organized is absolutely key, and don't forget to take breaks.
Shabree Anthony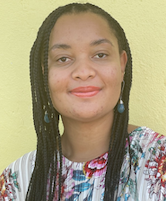 RISE/REU Scholar: Summer 19
Program: Ph.D. in Toxicology
Shabree Anthony graduated from the University of the Virgin Islands with a Bachelor of Science in Chemistry and a minor in Health Science. At her undergraduate institution, she was a part of the Researching Initiative for Scientific Enhancement (RISE) and Maximizing Access to Research Careers (MARC) programs. In the summer of 2019, she participated in both the Research-Intensive Summer Experience (RISE) and the Summer Undergraduate Research Fellowship (SURF) program at Rutgers University. Here, Shabree worked in the lab of her mentor, Dr. Lauren Aleksunes, aiming to assess relationships between metallothionein expression and cadmium concentrations in the human placenta. After this experience, Shabree was greatly motivated to attend Rutgers for graduate school. Her current research interests include studying neurotoxins to help further understand their physiological and pathological effects. Lastly, Shabree's hobbies include reading and baking.