Research Café
Research Café
Students, faculty, and staff are invited to learn about and engage with student scholarship in an interdisciplinary, friendly, and low-stakes setting.
Research Café
Event Description
Students, faculty, and staff are invited to join the School of Graduate Studies for our first Research Cafe gathering featuring two grad student scholars who will share their work and benefit from peer feedback in a friendly and low-stakes setting.
The first Research Cafe will be on Wednesday, Dec. 14 from 3:00-4:00pm in the Dean's Conference Room (#123) at the RWJMS Research Tower in Piscataway, NJ 08854.
Learn more and sign up to attend at go.rutgers.edu/researchcafe.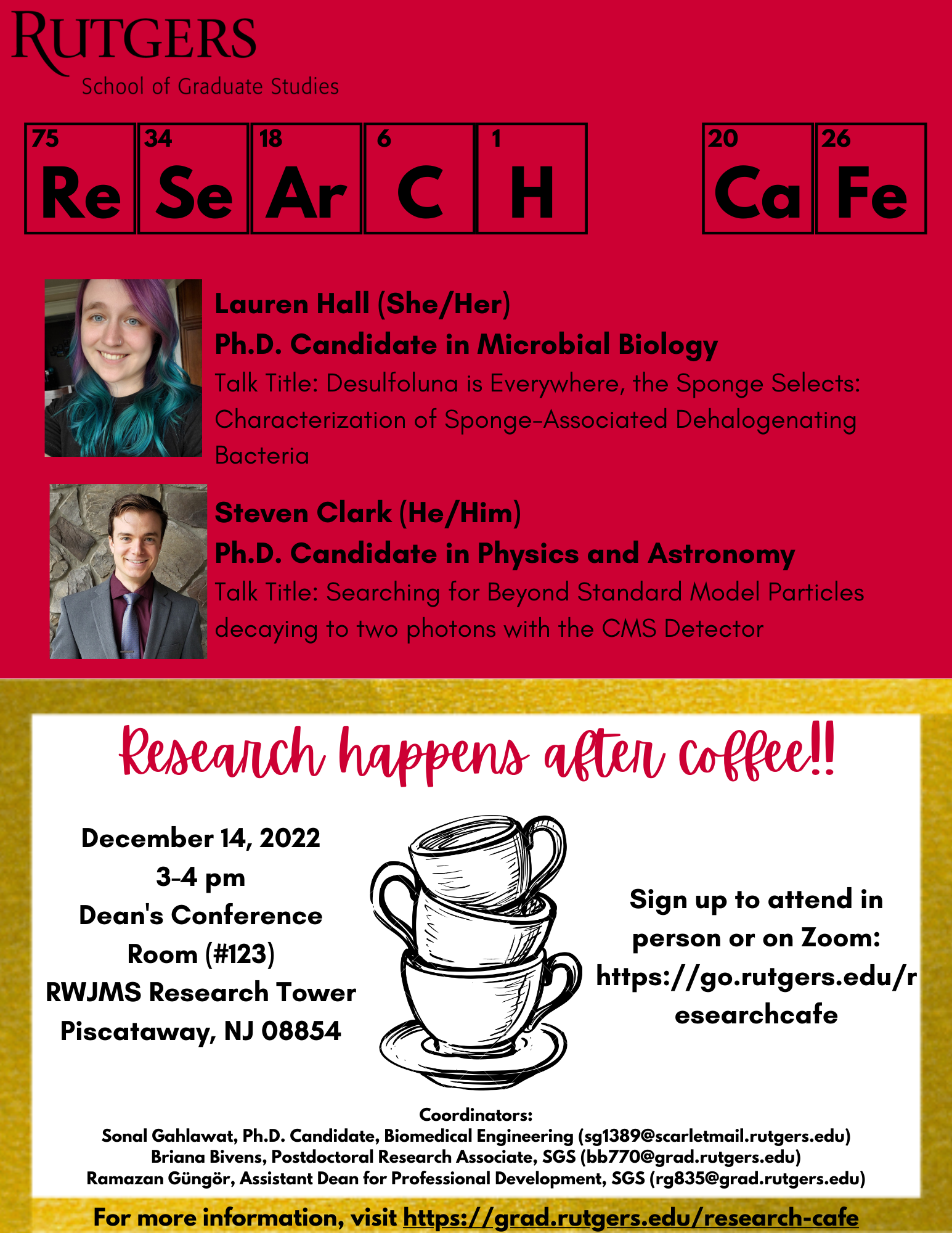 Featured Presentations
"Desulfoluna is Everywhere, the Sponge Selects: Characterization of Sponge-Associated Dehalogenating Bacteria" by Lauren Hall
Abstract: Organohalides are environmental contaminants resistant to degradation. The basic structure of organohalides is a carbon/hydrogen backbone with at least one carbon-halogen bond. Common manmade organohalides include brominated flame retardants, which are used in many industrial processes and household products. While many organohalides are manmade, thousands occur naturally. Marine sponges produce organohalide metabolites, often containing the element bromine, and are also hosts to rich microbial communities. We have postulated that these metabolites create a selective pressure promoting growth of bacteria that use the organohalide metabolites to their benefit.
Presenter Bio: Lauren Hall is a 4th year PhD candidate in the Microbial Biology program advised by Dr. Max Häggblom. She completed her bachelor's degree in microbiology at Rutgers University and briefly worked as a technician in the molecular biology department of a clinical laboratory prior to graduate study. Her research interests include bioremediation of persistent contaminants and host-microbe biology. Marine sponges are a perfect intersection of these interests; her dissertation work focuses on degradation of brominated organic compounds by bacterial symbionts of sponges. Studying sponge-associated microbes with this metabolic capability may lead to development of new biodegradation methods utilizing sponges to do what they do best: filter. Her hobbies are also microbial in nature. Outside the lab, Lauren spends her time making lacto-fermented pickles and running a homebrew project with friends, "LAN NanoBrews".
"Searching for Beyond Standard Model Particles decaying to two photons with the CMS Detector" by Steven Clark
Abstract: The Large Hadron Collider is the largest particle accelerator ever built. In 2012, the CMS and ATLAS experiments jointly discovered the Higgs Boson by analyzing proton-proton collisions from the LHC. This discovery makes searches for new beyond Standard Model Higgs-like particles possible. I will describe the search for one such particle decaying to final-state photons using the CMS detector. Specifically, I will discuss the use of novel Machine Learning algorithms to detect previously unresolvable two-photon objects. This analysis seeks to confirm the existence of the proposed new particle, paving the way for new theories beyond the Standard Model, or to set production limits.
Presenter Bio: Steven Clark is a Ph.D. student in the Physics department with an interest in Experimental Particle Physics. Steven is fortunate to work with data from the Large Hadron Collider at CERN in Geneva, Switzerland. When he is not researching, Steven enjoys running, biking and anything outdoors!
About Research Cafe
Research Cafe is a new student-organized initiative -- supported by the School of Graduate Studies -- designed to strengthen scholarly literacy and interdisciplinary research communication by providing a platform for emerging graduate student researchers to connect, share their in-progress research or scholarship, and benefit from peer feedback in a friendly and low-stakes setting.
The Research Cafe is scheduled to meet on the second Wednesday of each month (December 2022 and February-May 2023) at rotating locations across the New Brunswick/Piscataway campus, with a Zoom participation option. Each gathering will feature two stellar student presenters, Q&A/discussion time, and time to mingle and enjoy snacks.
Questions? Visit the Research Cafe website at https://grad.rutgers.edu/research-cafe or email Sonal Gahlawat at sg1389@scarletmail.rutgers.edu, Briana Bivens at bb770@grad.rutgers.edu, and Ramazan Güngör at rg835@grad.rutgers.edu.