Research Cafe: Yingchun Xu & Manali Allen
Research Cafe: Yingchun Xu & Manali Allen
Join the School of Graduate Studies as we engage in this interdisciplinary community of practice and dialogue about graduate students' innovative research in a friendly and low-stakes setting.
Research Cafe: Yingchun Xu & Manali Allen
February 21, 2024
3:00 - 4:00 pm
Event Description
Research Cafe: February 21, 2024
3:00 - 4:00pm
The Hatchery Innovation Studio, Alexander Library
169 College Ave., New Brunswick
Zoom option available.
~Snacks & coffee provided!~
Register to attend in person or on Zoom.
1.) "Traditions as Events: Phenomenological Bullhead Fish Hats and Hani (Akha) Sacred Swings Rebuilding" by Yingchun Xu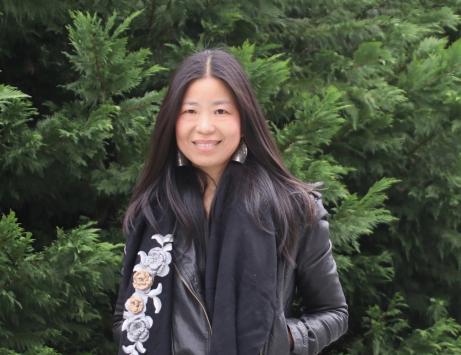 Abstract: Historically, indigenous traditions have long been considered backward, superstitious, and barbaric. The gradual disappearance of their cultural traditions is often accompanied by the termination of the production methods deemed as "backward" and the assimilation of their languages and education to adapt to modern social life. Originally the concept of tradition, literally from the Latin meaning "something handed over," in slowly changing societies was almost equivalent to inheritance. Alice Horner (1990) reminds us that tradition refers to the process of handing down from generation to generation, and something, custom, or thought process passed on over time. As a matter of fact, indigenous traditions have encountered cultural dislocation, such that sacred objects, customs, and rituals have been destroyed, eliminated, and alienated historically and globally. The question is: Are indigenous traditions recognized as a concept of time, mainly related to the "past" time or the obsolete, still suppressed unconsciously rather than appreciated by mainstream cultures? I argue that indigenous traditions should be practiced as events, a phenomenological "excess of signification (Garnet Butchart, 2011)," and a space frame of synchronicity. Based on two anthropological cases, Tlingit bullhead fish hats 3D repatriation from Smithsonian Institute, and Hani/Akha rebuilding and creation of their traditional swings, I analyze that the traditions as events through media show themselves rather than be shown, thereby forming spaces of indigenous people with their ancestors.
Speaker Bio: Yingchun Xu is a Ph.D. student in Media Studies at Rutgers. After exploring a wide range of disciplines in theories and being engaged in media-related work such as local TV, NGOs, and universities, her research focuses on media and indigenous culture, the political economy of digital media and cultural representation. Based on mixed methods including anthropological fieldwork, archival studies in museums such as in Smithsonian Institute, and discourse analysis, her research interests include the Hani case studies of China's ethnic "cultural root-seeking" as a resistance and cultural revival movement compared with the Akha case in Thailand, gender representation via media, and algorithm as a cultural technique.
2.) "Libertine women's writings in Early Modern France" by Manali Allen
Picture Loading...
Abstract: My dissertation attempts to shape the notion of "libertine feminism" through the analysis of women's writings selected from diverse sources (memoirs, letters, poetry, fables, short stories, and fairy tales) under the reign of Louis XIV (1651-1715). If the concept of libertinage has been largely theorized, women's cultural productions have for the most part been excluded from the canon, resulting in an incomplete picture of the multiplicity of libertine experiences in Early Modern France. Mostly objectified, sexualized and fantasized, the libertine (woman) remains essentially understood through the prism of male desire and seems to be unthinkable as a subject. The rich literary and philosophical heritage women have left of their emancipatory fights against the social and sexual norms of their times calls upon the need to rethink our intellectual and moral categories, past and present. Seeing the Ancien Régime as a valuable historical period to study female subjectivity, sexuality, and gender equality, I also believe the notion of libertinage could potentially be a useful conceptual tool for modern feminist theory, that still tends to meet the question with some rightful level of ethical and intellectual resistance. What do these libertines have to teach us ?
Speaker Bio: Manali Allen is a PhD candidate in the French Department and a Teaching Assistant in the English Writing Program at Rutgers University. She started her dissertation exploring the connections between feminism and libertinage under Professor Jennifer Tamas with a fellowship at the Ecole Normale Supérieure of Paris in 2022.
About Research Cafe
Research Café brings together the entire graduate student community of Rutgers University-New Brunswick/Piscataway campus to strengthen scholarly literacy and interdisciplinary research communication by providing a platform for budding researchers to connect, share their in-progress research or scholarship, and benefit from peer feedback in a friendly and low-stakes setting.
Research Café is a monthly, one-hour event to occur at rotating locations across the Rutgers New Brunswick/Piscataway campus (a Zoom option will be available, too). Each event will feature:
Presentations (10-12 min. each) from two graduate students from across disciplinary areas ranging from engineering and biology to history and anthropology.
A Q&A dialogue with peers and attendees.
Conversational time over refreshments and snacks.
Sign up to attend in person or on Zoom at https://grad.rutgers.edu/research-cafe.
---
Questions? Contact the program coordinators:
Sonal Gahlawat at sg1389@scarletmail.rutgers.edu, Briana Bivens at bb770@grad.rutgers.edu, and Ramazan Güngör at rg835@grad.rutgers.edu.