iJOBS Blog
By Vidur Sarma
Jobs related to patent law and intellectual property (IP) rights are booming and right now make up a significant percentage of the United States task force. According to a report titled 'Intellectual Property and the U.S. Economy: 2016 Update' released by the U.S. Commerce Department, industries focused on IP contribute to 38.2% of USA GDP, 45.5 million jobs, and 46% higher pay than that obtained through non-IP industries in the private sector.
For those with a science degree who perceive a level of career stagnation or feel boxed in by their career, the IP field is an excellent opportunity to pivot from one's perceived trajectory by taking advantage of scientific fluency. To help graduate students and postdocs explore the IP and patent law sector, iJOBS and the Erdos Institute co-hosted an event on October 13th, 2021. Dr. Myra McCormack was invited to speak about pursuit of careers in law and business with the help of one's advanced science degree.
Dr. McCormack is an associate patent counsel at J&J Inc. and the President of the American Intellectual Property Litigation Association (AIPLA). Beginning her career as a patent lawyer at J&J 21 years ago, she has escalated to become a senior leader overseeing patent portfolios, products, licensing, mergers, acquisitions, and due diligence activities in immunology, infectious diseases, vaccine, and therapeutic areas. She is the intellectual property executive committee leader of the consumer sector of patent attorneys.
The presentation began with Dr. McCormack describing the 3 different types of IP law: patent law, copyright, and trademark. A patent generally provides 20 years of limited legal monopoly to exclude others from making, using, selling, and/or importing your invention. A copyright is different from a patent in that it provides exclusive right to do and prevent others from reproducing, distributing, performing, or displaying literary or artistic work for the totality of the author's life and an additional 70 years, in general. A trademark distinguishes the source of the goods and does not expire if one continues to use the mark.
Candidates seeking to enter an IP related career field are typically driven by an eagerness to learn about new technologies and cutting-edge research, and to help new inventions reach the market. Progress in this field requires that candidates understand the implications of a discovery, differentiate it from previous advances in the area, and communicate these nuances in a succinct way. Having a strong science background is required, and having a Ph.D. is highly desirable. Some of the patent law related job profiles that a Ph.D. degree holder can pursue are as follows:
Technical Advisor: assists patent agents or patent lawyers with research and writing tasks by performing background research for a patent, investigating competing patents, and drafting patent applications.
Patent and Technology Search Specialist: searches for patentability and invalidity analyses.
Patent Agents (who pass the patent bar): write, file, and prosecute patent applications before the United States Patent and Trademark office (USPTO). However, they cannot render legal opinions or practice law, nor can they become a partner in a firm.
Patent Examiners: work at the US Patent Office.
Patent Lawyers: specialize in prosecution (writing and filing for patent protection) or litigation (bringing and defending against lawsuits over intellectual property). A law degree is needed for further career advancement and salary increases.
Licensing Officers: review new inventions (from academia) for patentability and commercial viability. They also connect with industries to seek opportunities to license the patent.
Business Development Professionals: negotiate deals for companies.
The roadmap involved in securing a patent application is akin to the travails involved in seeking funding for a research lab through grant submissions. As seen in the patent application roadmap below, the process starts when the application is filed. Then, a patent examiner would read and understand the application, search for prior art or technology, evaluate the specification and claim(s), respond by office action(s) describing findings, and hold interviews as requested. Unless approved at the first step, the examiner could reject it or recommend changes. That gives the applicant room to respond to, appeal, or abandon the application. A response to an office action usually involves the use of patent analytics or interviews with the patent examiner to generate better arguments to advance the patent prosecution and to successfully overcome obstacles to patent approval.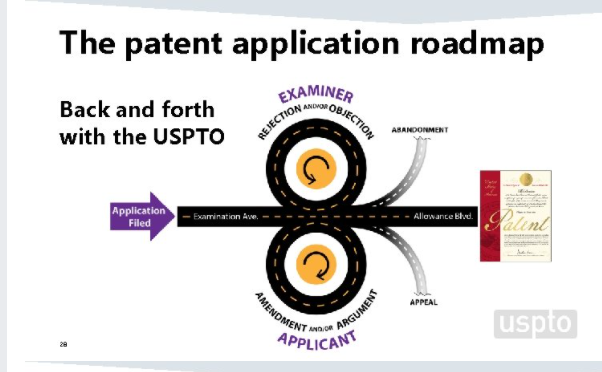 Should one feel the need to walk away from the bench while retaining a connection with science, patent law could be the perfect opportunity.  Law happens to be one of the many careers away from the bench that one can pursue. For instance, individuals with an MBA or tech background can consider opportunities related to business development, venture capital funds, hedge funds, large bank systems, finance in the tech sector, corporate finance, or start-up leadership. If one is interested in becoming a patent lawyer, the prerequisites include passing the patent bar or the LSAT entrance exam. One could pass the patent bar before graduating from law school, but it is not essential. 
Dr. McCormack concluded by saying that one must look to make a difference through one's work. One must be kind, continue to take risks (while being happy in one's current position), and be willing to engage with new opportunities.  If that means IP related work will bring joy where there once wasn't, that career is worth pursuing in spite of fear.
This article was edited by Junior Editor Gina Sanchez and Senior Editor Natalie Losada.
Related News