iJOBS Blog
By: Sonal Gahlawat
          Accessibility to good quality, affordable, effective, and convenient health products is essential for addressing health emergencies, advancing healthcare, and promoting healthier lives. This would not be possible in the absence of medical products, which are used to diagnose and treat illnesses, monitor treatments, and to assist disabled people. A medical device can be as simple as tongue depressors and bandages or as complex as pacemakers and implantable drug-eluting stents. Today, we will explore the career path of scientists and engineers working in the medical device industry and how they are developing life-saving devices or technologies to improve human health. Before we delve deeper into the article, let's take a look at how these devices are developed.

          On February 17, 2023, Rutgers iJOBS hosted a career panel on medical devices. Graduate students and postdoctoral associates learned about various career paths from graduate school to working in the medical device industry. Our career panelists had a variety of experience from newly minted Ph.Ds. to experienced managers.
          Dr. Josh Leipheimer is a Senior Scientist at Glaukos, with a doctoral degree in Biomedical Engineering from Rutgers University. During his graduate school, Josh developed a point-of-care robotic device for automated blood drawings followed by automated blood testing. Josh's thesis project resulted in two patents and a first-in-human clinical trial using the developed device. During his PhD, Josh not only got to hone his technical skills in the areas of deep learning, computer vision, robotics, and signal processing, but also gained extensive experience working with clinicians, patent agents, and lawyers. All of these skills and experiences helped him land his first job at Glaukos where he applies machine learning algorithms for medical imaging problems in corneal health.
          Dr. Emily Reiser is an Associate Director at Texas Medical Center (TMC) Innovation, with a doctoral degree in Bioengineering from Rice University. Her doctoral thesis research focused on drug delivery applications for cancer immunotherapy. During graduate school, Emily got curious about learning the business side of science, such as the commercialization of drugs. Unable to access business courses, Emily started exploring the Houston community and came across the "Enventure" group. Enventure is a non-profit organization that provides graduate students and postdoctoral researchers hands-on experience and opportunities for entrepreneurship and helps them build professional networks in life science industries. Through Enventure, Emily found an opportunity to work with Noleus Technologies, where she managed their business development and helped them commercialize their product. Emily then moved to TMC Innovation, where she has served in multiple roles, including Innovation Strategist, Senior Manager for Community Engagement, and currently Associate Director. With such extensive experience in life science entrepreneurship and commercialization, Emily manages the Accelerators for Cancer Therapeutics and Health Technology.
          Dr. Divya Bhatnagar is Senior Product Development Engineer (Project Lead) at 3DBio Therapeutics, with a doctoral degree in Material Science and Engineering from Stony Brook University. After graduate school, Divya completed a postdoctoral fellowship at the New Jersey Center for Biomaterials, Rutgers University, and a mini-MBA in Biopharma Innovation from Rutgers. Working in a highly collaborative environment with academic institutions and industry allowed her to network with professionals that helped her land a job as a Senior Scientist at a startup company, Semma Therapeutics, Inc., a subsidiary of Vortex Pharmaceuticals. Working at a startup company allowed her to wear multiple hats and develop expertise in many areas, from product development to commercialization. She also worked at Aspect Biosystems as a Lead Scientist to create a pathway for treating type 1 diabetes. In her current role at 3DBio Therapeutics, Divya managed several R&D projects for spinal disc regeneration and a surgical mesh platform from design to execution. Throughout her career, she has been a co-inventor in 5 US patents and has co-authored a book on "Biomedical Polymers."
          Dr. Shruti Saxena is a Medical Technology Scientist at Collagen Matrix, Inc., with a doctoral degree in Material and Life Sciences from the University of Modena and Reggio Emilia (Italy). Following graduation, Shruti completed a postdoctoral research fellowship in functional biomaterials and tissue engineering from the University of Udine (Italy). After moving from Italy to the US, Shruti joined Rutgers University as a Research Assistant at the New Jersey Center for Biomaterials, exposing her to both academic and industrial collaborations. Motivated by the intersection of science and business to design and commercialize a product, Shruti joined Collagen Matrix to develop products for bone tissue engineering. Shruti has launched three medical devices following FDA/ISO standards and design control principles in her current role.
          Dr. Eric Pierce is a Product Development Manager at Medtronic and a certified Project Management Professional (PMP) with a doctoral degree in Biomedical Engineering from Georgia Institute of Technology and Emory University. In graduate school, Eric studied the biomechanics of mitral valve diseases and gained a better understanding of device-tissue interaction. Interestingly, before starting graduate school, Eric served for two years in the US Peace Corps with the goal of "soul searching" and figuring out what he wanted to do. After learning about the new world of biomedical engineering, Eric got excited about developing "tactile and tangible" products for human health. His graduate school lab exposed him extensively to product design, development, testing, and management related to heart valves. After graduation, Eric joined as a Senior R&D Engineer in Medtronic's Heart Valve Product Development group. Over the next few years, Eric worked on several aspects of the heart valves (design, testing, commercialization, and more) as a Principal R&D Engineer. In his current role within the Structural Heart and Aortic Operation Unit, Eric leads an interdisciplinary team of engineers and oversees testing strategy for all transcatheter heart valve New Product Development teams.
            As graduate students, we often work for 60-70 hours per week, trying to juggle classes, research work, teaching responsibilities, mentoring undergraduate students, writing grants, and so much more. Managing all these responsibilities and finding time for self-care means we struggle to set boundaries between personal and professional life. This brings us to our next question. What do our panelists' work days look like in the medical device industry? The short answer: our panelists' schedules are fluid and tend to change frequently. For Josh, he is either spending hours in front of the computer, writing code and/or debugging, or researching and implementing how to improve the design of a medical device. Very few graduate PhD continue to apply the skillset they gained in graduate school in their job, and Josh is one of those lucky graduates. As a product developer, Shruti's weekly schedule is decided by the product she is working on and its phase. When she is in a product development phase, her schedule is intensive, which continues until the design is transferred to the next stage of design validation, where she supports the production teams and is more relaxed. As a Project Lead, Divya's responsibilities and day-to-day work life are similar to our previous two scientists. In addition to managing the project and her team, she also mentors junior scientists and often travels to meet with collaborators. In comparison to applied research positions, Emily and Eric, in their "people management" positions, lead their team and provide all the resources they need to be successful, which often means back-to-back meetings with team members, scientists, managers, engineers, etc. They act more as mentors and coaches and spearhead their team in the best direction. Being a manager also forces them to delegate work to their team members, which does take a while to learn.
          As the career panel was ending, a graduate student asked one of my favorite questions, "did you always know you wanted to be a manager? What steps did you take to become a manager?" As expected, Emily and Eric had the same answer for such a complicated question: they were never 100% sure. However, they started developing the relevant experience during their graduate school: managing projects, mentoring undergraduate students, planning out budgets, delivering papers/grants/applications on a tight timeline, and so many other things. After joining the industry, they both sought out opportunities to lead a small team or a project if their manager's plate was too full, and these small teams/projects became medium to large. They worked on building the transferrable skills and joined them together piece-by-piece, just like a Lego set, to get to the next level. One quick tip to become a good manager: "be a good listener," says Emily. A brief summary of the Q&A session about important topics can be found below.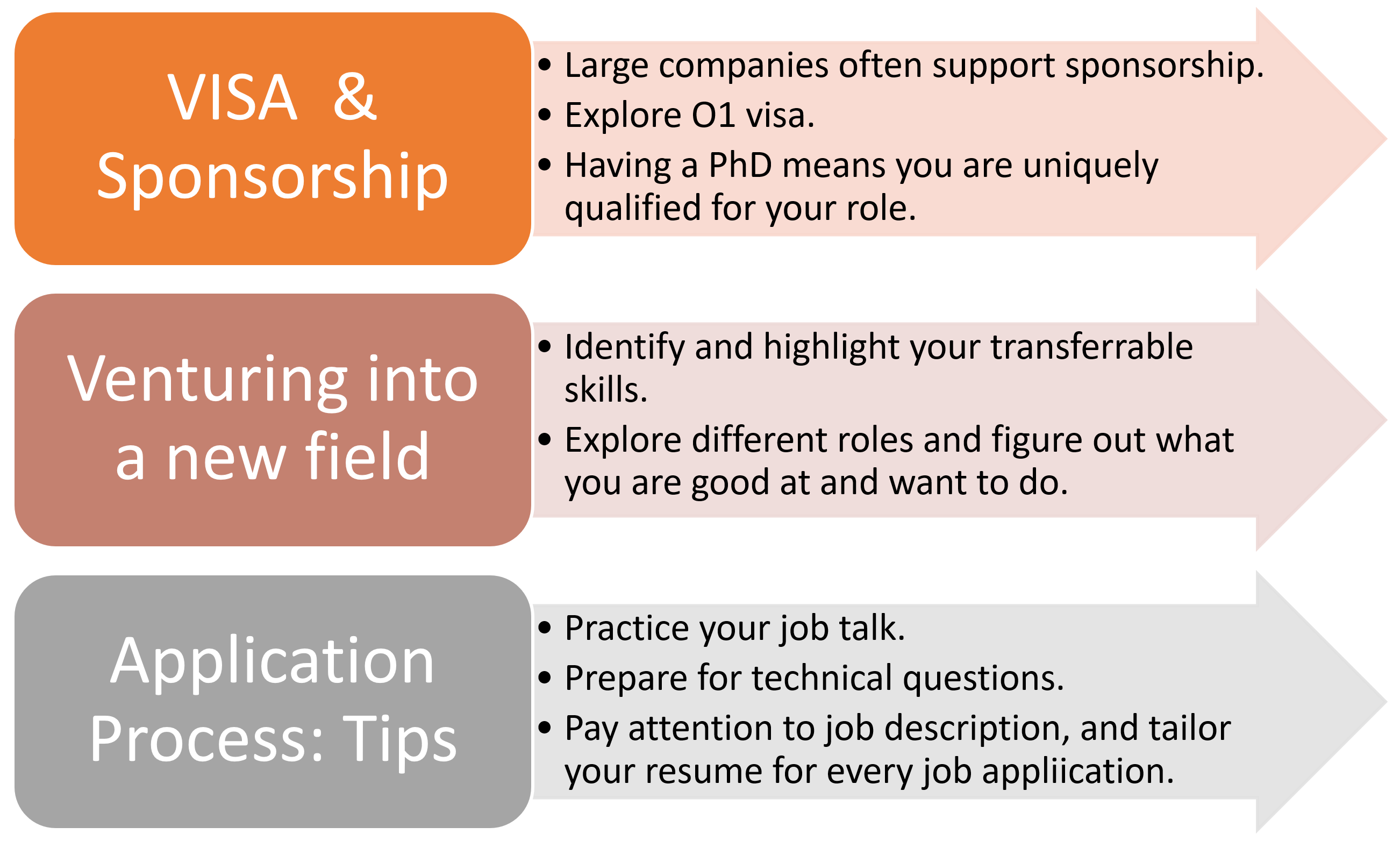 One thing is certain if you want to work in the medical device field, having a PhD is a "plus." Your PhD degree will help you better understand the business aspects of a product and its different phases. It prepares you to communicate with scientists, clinicians, engineers, technicians, administrators, entrepreneurs, and business folks. As I start to wrap up my graduate school journey, I am finally figuring out the answers to those A-to-Z questions I had just a few months ago. This iJOBS event was enlightening and made me feel inspired, invigorated, and excited about the unlimited opportunities and the potential of the future. To all my fellow graduate students in the last leg of their journey, I hope you are honing your transferrable skills and figuring out what you want to do. Our degree is preparing us precisely for that.
This article was edited by Senior Editor Natalie Losada and Senior Editor Shawn Rumrill.
Related News