iJOBS Blog
By: Gina Sanchez
Have you ever wondered how you can use your Ph.D. to truly make an impact in the world? One such path is science policy, which is a field with a variety of career options that allow scientists to use many transferrable skills gained during their doctoral training to influence policies that are generated, oftentimes in government. On January 25th, 2022, Rutgers iJOBS hosted a panel to discuss science policy, a booming field that is one option for Ph.D. scientists to use their knowledge to help make a positive impact.
The session began with brief introductions from each panelist. Dr. Joseph B. Keller currently works with the American Psychological Association (APA), where he uses his background in neuroscience to advocate for and manage funding for topics relevant to the psychological sciences. Like many aspiring students interested in science policy, Dr. Keller was a AAAS Science and Technology Policy Fellow at the NSF, where he gained skills in understanding grant-making programs. Dr. Michael A. Fisher is a senior fellow at the Federation of American Scientists, where he uses his extensive background in STEM policy centered issues to place STEM experts within the federal government. Dr. Trisha Chakraborty is a Health Science Policy Analyst at the National Institute of Health's Office of Science Policy, where she oversees the efforts of the NIH with the White House's Office of Science and Technology Policy and has an interest in tribal health policy. Like Dr. Keller, she also was an AAAS Science and Technology Policy Fellow, but at the Department of Justice. Here, she was able to explore a series of topics related to science policy, including tribal justice issues, forensic intelligence, mental health among first responders, and criminal justice research. Dr. Megan Anderson Brooks is Principal at Innovation Policy Solutions LLC, where she leverages her 10 years of expertise as a neuroscience researcher to lobby and consult on a broad range of health and science policy issues. Our final panelist was Dr. Brian Canter, recent RBHS graduate, who now is a Senior Policy Analyst at Duke-Margolis. Here, Dr. Canter addresses policy issues related to biomedical innovation – specifically COVID-19 therapies – and is currently working on key issues regarding regulatory authorization of oral anti-viral treatments for COVID-19. As you can see, our panelists have a diverse array of backgrounds and focuses, making for a very insightful panel discussion.
A very common theme was observed when listening to the panelists: current political events. Several of the panelists including Dr. Canter were inspired to join the field of science policy by the political turmoil that has been defining our generation. The 2016 election was tumultuous regardless of which side you were on, and it inspired many of our panelists to get involved. Similarly, Dr. Brooks was inspired by the controversies around stem cell research. She observed scientists and lawyers interacting, and quite frankly felt that "we could do better" as scientists to communicate our points to other audiences. Dr. Keller also brought in another unique reason, which was that he wanted to make sure that the psychological sciences got the funding that they deserved. Science policy is not just enacting changes in government policy, but also within societal groups to ensure that topics that deserve attention and funding are able to do that. Our time spent earning our graduate degrees gives us a unique knowledge base, and science policy allows us to bring that knowledge to the table in real-life discussions to enact real-life change.
You may be wondering what our panelists did before they got into science policy that prepared them for this field. In the vein of current politics modeling our panelists, Dr. Fisher actually worked in campaigns! During his post-doctoral training at Rutgers NJMS, he became involved in activism in his congressional district. He also volunteered in the Democratic Primary for a congressional campaign in 2018. His candidate did not win, but he emphasized that you learn the most on a losing campaign, echoed by Dr. Brooks. Another benefit of volunteering in campaigns, winning or losing, is the chance to network. Networking was a major commonality in how several of the panelists obtained their jobs.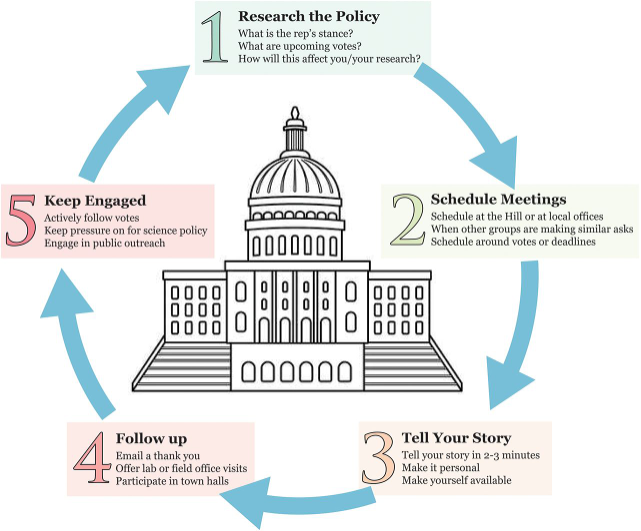 Another common topic covered was: what is a day in the life of someone who works in science policy? The schematic on the right gives a typical workflow of what happens in science policy. But Dr. Canter laughed a bit at this question and mentioned that there truly is no "typical day," a theme amongst many post-Ph.D. career paths. Another common thread? Meetings. Dr. Canter works within the Biomedical Innovation program, where he plans many meetings between relevant groups. To prepare, he must do background research on the subject, conduct interviews with subject matter experts to understand the different perspectives and goals at stake, and create a primer document to get meeting attendees up-to-date quickly on the subject matter. Dr. Fisher on the other hand, works to place STEM experts within the federal government and trains people on topics of interest with evidence-based information. Dr. Keller mentioned that his "day to day" includes a lot of reading and reacting. He uses a lot of his time to read the news from multiple sources to understand what is happening in the government from different perspectives. Dr. Chakraborty nicely summarized her daily life by saying she "puts out fires using communication." This really sunk in with the attendees, as we are all living through this era of misinformation and mob mentality that can drive political divide. Her role allows her to take evidence-based information to try to quell both sides with the facts. Dr. Brooks has a more unique perspective as she works with a consulting company that answers to clients and directly engages with experts on behalf of her clients. The day-to-day life in a consulting company has her constantly shifting attention; if her morning client is working in a field that she is not personally super enthused over, her afternoon client may be, keeping her always on her toes. She also wanted to emphasize that in science policy, you are not the person who makes things happen, but you are more so the person who brings groups together to enact change. Overall, your daily life will depend on your role and on the day itself, ensuring that you are always on your toes.

Finally, Dr. Anna Dulencin from the Eagleton Institute of Politics at Rutgers jumped in to tell us about some of the fellowships that are offered to current Rutgers students. There is a one year interdisciplinary Graduate Fellowship Program in Politics and Government that takes place alongside your studies and accepts approximately 27 graduate students from across the Rutgers campuses. Another program is the Eagleton Science and Politics Program that puts Ph.D. scientists into New Jersey state policy settings. These are just two of the many programs that are open to us as Rutgers doctoral and post-doctoral students.
The iJOBS Career Panel on Science Policy was very insightful. As attendees, we got to meet individuals who were recently in our shoes at Rutgers. It was inspiring to see that they had successfully made the break from the bench and took their knowledge to work towards enacting true change in our society. It is also important to note that the Rutgers Graduate School has a club dedicated to these field: Science Policy and Advocacy at Rutgers (SPAR) that has regular meetings and events for those of you who wish to dip your toes in the field. Science policy is a career path that is open to us as Ph.D. level scientists who want to make changes in society for its betterment, and there is a vast need for that right now.
This article was Edited by Senior Editors Natalie Losada and Samantha Avina.
Related News