iJOBS Blog
By: Sonal Gahlawat
Let's do a quick poll (in your minds). Explore your lab and tell me if you find any injection needles or syringes in blue-labeled packs. Now, check the manufacturer. For people who work on computers and have no idea what I am talking about, today, we will be entering the world of the medical device industry, the industry where scientists invent and develop life-saving devices and technologies to improve thousands of lives worldwide. And one day, I will be one of them.
On June 21, 2022, graduate students and others learned about one of the world's largest global medical technology companies, Becton, Dickinson and Company (or BD). Going back to those needles and syringes I mentioned earlier, I can say that BD manufactured them with 99% probability. Founded in 1897 with current headquarters in New Jersey, BD's first product was well-known hypodermic syringes manufactured in high volumes. BD touches "the full continuum of healthcare" by enhancing "the treatment of a disease and the process of care." Out of $20B annual revenue, BD invests $1B in innovation with the major goal of driving innovation in the Healthcare and MedTech space. BD not only develops and manufactures medical devices, but also instrument systems and reagents for the pharmaceutical industry, healthcare institutions, clinical laboratories, and life science researchers.
Before we discover more information about BD's segments and business units, it's time to introduce our three speakers: Dr. Olivia Palmer, Dr. Jordan Ciciliano, and Dr. Shelby Bieritz. Two of our speakers are also a part of rotational program called as Technology Leadership Development Program (TLDP). Before we jump to our speaker's journey, let's learn about the rotational program. TLDP is a multi-rotational program within the R&D for Ph.D.'s within the STEM field. The program has four requirements: three rotations in at least two geographical locations and two business units with 18-24 months per rotation. TLDP aims to "strengthen the technical depth and leadership skills to develop future leaders within the R&D organization." Similar rotational programs are also available in the Engineering and Software Development programs. To learn more about different rotational programs, check out this link. Now, get excited and let's find out more information about how our speakers navigated their way from graduate school to BD.
Dr. Olivia Palmer is a Staff Systems Engineer in the TLDP rotation program with a doctoral degree in Biomedical Engineering from the University of Michigan in the MRI imaging field. Olivia's first rotation was within the "idea" phase for new product development in Austin, TX and Ireland. Her second rotation was in the Diagnostic units, where she focused on using the BD CORTM for PCR-based applications, including developing the COVID tests. Her favorite part about the rotations was getting out of her comfort zone and challenging herself to learn something new by utilizing her skills in translating science to various audiences. For her third rotation, Olivia is looking for opportunities in business development and strategic innovation within the Interventional segment.
Next on the list is Dr. Jordan Ciciliano, with a doctoral degree in Bioengineering from the Georgia Institute of Technology, where she created a microfluidic device to study blood clotting at a single-cell level. Jordan also did postdoctoral research at the University of Wisconsin, Madison at the intersection of immunology and microfluidics. Jordan now works as a Staff Engineer as part of the TLDP program. Jordan's first rotation was in the Materials Center of Excellence (COE), where she created a lab for blood-material testing in Salt Lake City, UT. Her second rotation was in Research Triangle Park, NC within the Computer-Aided Engineering group, and she worked on virtual reality training for medical experiences. Jordan will be in San Jose, CA to learn more about the principles and applications of BD's proprietary flow cytometer for her last rotation.
Finally, we have Dr. Shelby Bieritz, a Senior Engineer in the Corporate Computer-aided Engineering group. Shelby holds a doctoral degree in Biomedical Engineering from Rice University (my alma mater!), where she studied rotary blood pumps and their interaction with blood cells. During her last year of graduate school, Shelby utilized her networking opportunities to land her current role at BD. Although she did not go through the traditional TLDP route, Shelby finished a Stanford Biodesign minicourse and learned about identifying needs, value proposition, market evaluation, and how to bring a product to market. Being in the COE, Shelby loves working with projects and technologies in different phases across multiple fields and units. What a fantastic group of scientists dedicated to inspiring the next generation of engineers and leaders!
Are you scrambling to look at their career website to find your ideal job? Wait! There's more to learn about BD's different business segments (refer to Figure 1). BD is divided into three main business segments: Life Sciences, Medical, and Interventional. The Life Sciences segment is further divided into Biosciences and Integrated Diagnostic Solutions (IDS). The Biosciences unit develops products and services for researchers and clinicians; some of us have already encountered them in our graduate school journey. The IDS unit, where Olivia currently works, integrates specimen management and diagnostic solutions to improve patient outcomes while reducing costs. One of the fanciest gadgets of the Life Sciences unit is called BD CORTM, a fully automated high-throughput diagnostic system that integrates robotics and sample management software for a complete molecular laboratory workflow. The Medical segment is BD's largest segment, which is divided into three subunits: Medication Delivery Solutions focuses on the delivery of medications safely to the patients, Medical Management Solutions helps in reducing medication errors, especially in hospitals and clinics, and Pharmaceutical Systems that develops housing for the pharmaceutical drugs. The last segment is the Interventional segment, which is Olivia's and my favorite, that includes traditional medical devices that come in contact with our tissues and organs to treat and/or alter a disease. This segment is also divided into three subunits: Surgery develops products to reduce surgical complications and improve patients' experiences, Peripheral Intervention offers innovative solutions for treating peripheral diseases such as arterial and venous disease, cancer detection, etc., and Urology and Critical Care develops complete solutions to optimize the urine drainage process in hospital settings. Apart from these business segments, BD also has corporate-level COEs. This center is grouped into two categories: (1) Computer-Aided Engineering and Innovation and (2) Software Technology Solutions and User Experience Design. The best part about working at a COE is that you can collaborate and work on projects from all three business segments, whether product development, material testing, or regulatory. So, take your pick and explore various roles and career paths offered by BD. I am just amazed by the number of medical and other products manufactured by BD in a year.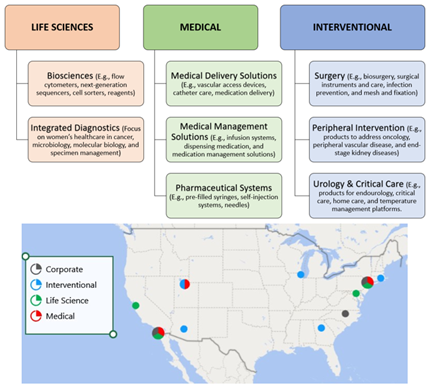 Similar to our graduate school journey, where we fulfill several roles and responsibilities: benchtop science, writing for grants and manuscripts, juggling multiple projects, mentoring other students, and many more, the medical device industry is full of opportunities for you to grow as a successful scientist, researcher, writer, project manager, etc. BD creates many innovative products for varied consumer needs, including healthcare, pharmaceutical, biotech industry, academic researchers, and many more. They offer fantastic opportunities in terms of roles and career paths. Check out the following figure to learn more about the different product development functions available at BD. All these roles are significant in developing innovative products, services, and medical technologies.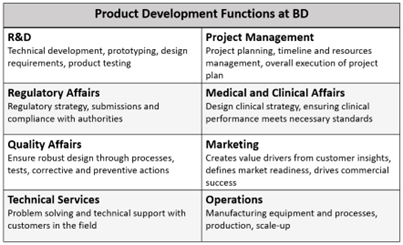 Apart from doing cutting-edge research and developing medical products to "advance the world of healthTM," BD's culture of innovation, quality, and authenticity is greatly appreciated by its employees. The company believes that diversity and inclusion are integral to its success and thus, creates a work environment where its associates are their "true selves." Moreover, the presence of multiple Associate Resource Groups (ARGs) helps BD "advance their cultural priorities" to create a deep sense of belonging within the community. ARGs create professional development opportunities for associates through mentoring, coaching, networking, and leadership roles. There are nine ARGs representing different backgrounds, races, ages, colors, creeds, religions, genders, and orientations. Need another reason to work at BD? The company is dedicated to strengthening the healthcare system worldwide by "developing and deploying market-appropriate solutions" to address critical health needs, including antimicrobial resistance, infectious disease, maternal and newborn health, and more. In one line, BD has consistently been recognized as a "socially responsible organization, setting the right example" and remaining true to its values.
Suppose, like me, you are amazed by the company's unparalleled reach in healthcare to touch billions of patients every year. In that case, you are sold to work at BD to develop innovative products, technologies, and solutions while being a part of the great community— now is the time to check out their career website. Just type in your keywords and location (if you want to work in sunny California or cold Illinois) to "impact lives and your career." Coming from academia, graduate students might be clueless about what kind of position they should apply for, like Scientist I or II or III? As seen from Figure 3, the typical entry for Ph.D.'s is between Scientist III, Senior Scientist, and Staff Scientists, depending on your level, experience, and career goals.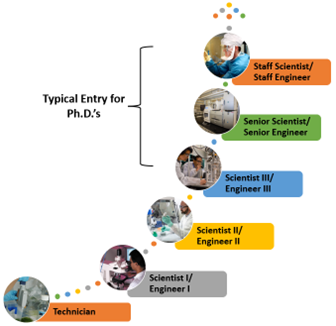 Awesome. You have completed a crash course on BD, its segments, and business units with locations and information about different product development roles. You also learned about our speakers' career paths: how they navigated from graduate school to BD. Now, it's time for a quick rapid-fire summary of the Q&A session
Q: Is a Ph.D. necessary for an R&D position?
A: No. Your current education level and your career path will decide your job title and salary.
Q: Application requirements?
A: 2-page resumes with a particular emphasis on leadership section, a cover letter that should tell your story, and focus on quantitative results.
Q: Moving expenses covered?
Q: Eligibility for TLDP?
A: Ph.D. in a STEM field. International students on F1 and J1 visas are not able to apply; only permanent citizens and green holders are eligible. Willing to relocate. A diverse technical, communication, and leadership experience will support your application for TLDP.
Q: When to apply for a job if you are in your final year of grad school?
A: Anywhere between 6 months to 1 year.
Q: Work-life balance at BD?
A: One-word answer: GREAT!
Q: Should grad students pursue an internship?
A: Definitely if you and your advisor are happy and on the same page. BUT, it's not a requirement.
Big Takeaways: NETWORK. Hone your transferrable skills. Get some leadership experience. Take advantage of iJOBS. Develop your soft skills. Practice, practice, and practice for your interviews.
If even after watching "The Bleeding Edge", you are still determined to work in the medical device industry to develop innovative solutions for "helping all people live healthy lives." Then, check out BD's website. As someone who has already decided to work in this industry, this iJOBS virtual site visit made me excited again about the unlimited opportunities and potentials of the medical device industry. I hope to further hone my translational science skills while evolving as a leader to develop innovative medical devices and solutions and bridging the gap between technology and medicine, engineers and clinicians, scientists and the public.
This article was edited by Junior Editor Gina Sanchez and Senior Editor Natalie Losada.
Related News