iJOBS Blog
By Joycelyn Radeny
Are you a PhD student or a postdoc looking for employment opportunities to either jumpstart or advance your career in industry? A staffing agency is a powerful tool that can be used to achieve your goals.
 A recent staffing agency panel hosted by iJOBS opened my eyes to how useful staffing agencies are in finding one's dream job.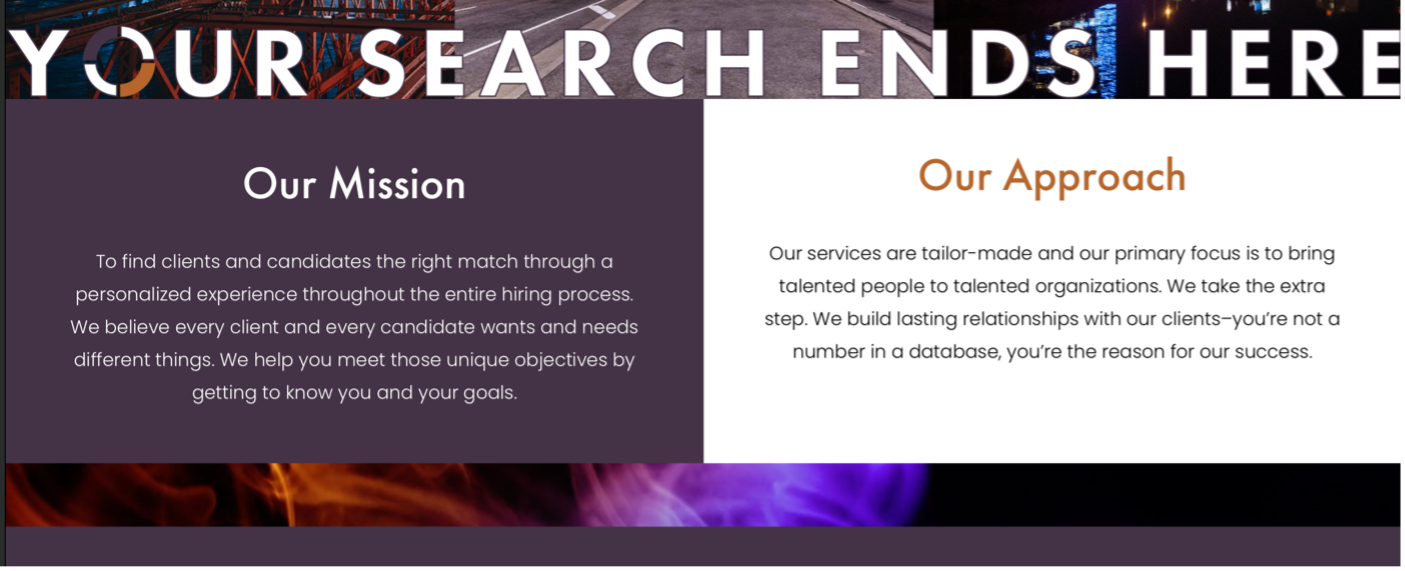 Picture from CODA search staffing agency: https://codarecruitment.com/search1
The panel was composed of two individuals: Lauren Diamond and Chris DeGasperis from CODA search staffing agency. Lauren Diamond is the vice president of the life sciences department, focusing on talent acquisition for companies by understanding their unique staffing needs. Chris DeGasperis, the president of CODA staff searching, focuses on further developing, growing, and maintaining the values of the agency. Founded in 2015 by David Cooperman and Chris DeGasperis, CODA search staffing is a company well versed in helping individuals finds jobs at various companies. CODA uses the term "search" to signify direct hire opportunities, while the term "staffing" signifies contract hire opportunities that may eventually turn into permanent positions. Agencies usually have either the staffing or search component but not both. CODA aims to maximize an individual's job opportunities by offering both components. Although this panel focused on the life sciences industry, CODA, also helps individuals looking for jobs in industry fields that include healthcare, technology, accounting/finance, marketing, and human resources/administrative services.
Chris began by providing a brief description of what general staffing agencies do. The main goals of a staffing agency are to link job seekers to companies and act as career guidance counselors. An important element of a good staffing agency is their ability to listen to the perspective of the job seeker. Job seekers should be keen on staffing agencies that ask about the individual's interests, work preferences, and goals that help build a personal relationship between the individual and the agency to improve the overall experience. CODA takes this experience very seriously.  Building a personal relationship with the job seekers allows CODA to refer job seekers to other staffing agency consultants if they are unable to find a job with CODA. CODA prides itself in offering top-tier services through approaches that include: prioritizing diversity and inclusion, using experienced industry recruiters, fully comprehending the individuals needs/goals, and maintaining relationships with individuals after job placements. More importantly the services offered by CODA for job seekers are free.
Next, Laura expanded by providing some of the benefits of using a staffing agency recruiter compared to traditional job searches. One of the benefits is that recruiters are coaches and advocates throughout the job application process. Recruiters are helpful in providing information about a specific job market that the applicant is interested in. Recruiters also help job seekers to review and format resumes, and even build their LinkedIn profiles.
Beyond helping to identify and apply for positions, CODA aids in interview preparation and offer negotiation tactics. Some of the interview preparation services offered by recruiters include lists of sample discussion topics and important questions to ask interviewers, conducting research on the company/interviewer, teaching clients how to market themselves/highlight their skillsets, how to close interview conversations and how to compose thank you/follow up emails. There is a common misconception that the use of staffing agencies for individuals who are not marketable. It is important to understand that the tools provided by staffing agencies play a key role in helping individuals find career paths that are best suited for their lifegoals. Staffing agencies allow individuals to re-define current career goals or discover new career paths. Therefore, staffing agencies are suitable for everyone.
Staffing agencies can further aid in negotiating the best offer for you. When it comes to job offer negotiations, recruiters perform duties such as discussing the job seeker's anticipated benefits/salaries with potential employers and accepting or declining offers on the job seeker's behalf.  The goal for the recruiter is to help the job seeker obtain the most beneficial employment packages. Another attractive benefit of working with recruiters is that they often have information about jobs that have not been publicly posted, therefore giving job seekers the opportunity to be the first candidates applying for these jobs. They have direct access to hiring managers and use these networks to pitch a job seeker's skills to companies, even when there are no jobs available. The result of the latter is a company crafting a job of the job seeker.
Next, Lauren touched on ways applicants can find an appropriate recruiter. The greatest advice Lauren gave was to be a proactive researcher. Before finding a recruiter, it is crucial for the applicants to know their career interests. Research is done on the recruiting agency based in the following questions/criteria:
What are their skillsets?
What industries do the specialize in?
What are their connections on LinkedIn?
Do they have a great LinkedIn presence?
What job opportunities do they have that you are interested in?
It is also worthwhile to initiate conversations with different recruiters, to get a sense of what they do and what opportunities they can offer. It is never too early to start a conversation. Job applicants can work with multiple staffing agencies. However, there is a risk of having a resume sent to the same company multiple times. So, it is best to choose an agency wisely!
Another area Chris and Lauren touched on is contract-to-hire jobs. Individuals often shy away from contract-to-hire jobs. However, Chris and Lauren emphasized the importance of a staffing agency in further advocating for job seekers in temporary jobs upon positive reviews from companies. The latter is often helpful in turning a temporary position into a permanent one, or obtaining better employment benefits. It is important for applicants in temporary positions to ask about benefits in advance, because not all staffing agencies offer benefits for temporary hires. While contract-to-hire jobs may be daunting, staffing agencies can help demystify them and even help you navigate how to turn them into permanent opportunities.
At the end of the panel, participants had the opportunity to ask questions. One of the questions asked was when the right time to use a staffing agency would be. Chris and Lauren responded by saying, "It is never early to start." Furthermore, there are many ways to hit the ground running. One way is by reaching out to a staffing agency six months prior to graduation to find internships or parttime positions at companies of interest. Alternatively, individuals can reach out to recruiters as early as they would like with the goal of fostering a personal relationship with the recruiter. Once the relationship has been established, individuals can communicate when they would like to start working. Even if an individual is not ready to work for the next year or two, if the personal relationship is present, the recruiter will always have the individual's information at hand and ready when the time comes for employment.
Another question asked was how to find a recruiter. One of the best ways is through a platform most of us are familiar with – LinkedIn! Not only are you able to research the recruiter's field of expertise is, but one can also market their skillsets using LinkedIn, allowing the recruiter to learn about the individual and tailor their job search. For more information about CODA staff searching agency, visit their website at https://codarecruitment.com.
So how can staffing agencies help graduate students? For graduate students, staffing agencies can be a great way to gain information about different career paths and job markets months, or years before graduation. The latter allows students to pick internships/jobs or cultivate networks that best align with their career goals. Staffing agencies can also be beneficial to graduate students who are considering switching career interests prior to graduation. Experienced recruiters can offer advice on how to transfer and apply current skills to your new career interests. For graduate students who do not feel fulfilled in their chosen fields of interests, staffing agencies can also work with you to match your strengths, interests, work preferences and skillsets with a career path most suitable for you.
In summary, staffing agencies are your career and guidance counselors. They advocate for the individuals they represent. The best staffing agency is one that truly listens to their clients, specifically paying attention to the job applicant interests, and finding jobs tailored to these interests. It is never too early to begin fostering relationships with recruiters. LinkedIn is the best tool to find them. Individuals should update their LinkedIn profiles to help recruiters better understand their interests. No matter the stage of your career, it is never too early to investigate how a staffing agency can help you achieve your goals.
This article was edited by Junior Editor Shawn Rumrill and Senior Editor Samantha Avina.
Related News