iJOBS Blog
By Adriana Jones
What is consulting?
Consulting is the business of assisting companies with strategic planning in various sectors such as marketing, finance, sales, manufacturing, etc. Essentially, a consulting firm serves in the capacity of an advisor to assist businesses in achieving their goals. There are numerous consulting firms that specialize in a variety of business sectors. This article will highlight life sciences consulting in all of its facets.
Rutgers iJOBS had the pleasure of hosting two consultants, Dr. Jill Luttman and Dr. Jennifer McCann, from Lumanity, a US based bioconsulting firm. A bioconsulting firm is a consulting agency that caters to clients in the biotech, pharmaceutical, and healthcare investment industries. Dr. Luttman and Dr. McCann shared their background and experiences working in the life sciences consulting field. Lumanity provides consulting services nationally and worldwide. Typically, in business consulting, there are multiple stakeholders and, as a consultant, it is crucial that you understand the business goals and management's desired outcome while meeting the needs of the constituents. Understanding those needs, researching, and compiling information to provide insight for the client are all critical to a successful consulting experience.
The following flow chart, created by My consulting offer, illustrates the consulting workflow and provides an overview of numerous project milestones a consultant will complete for a client.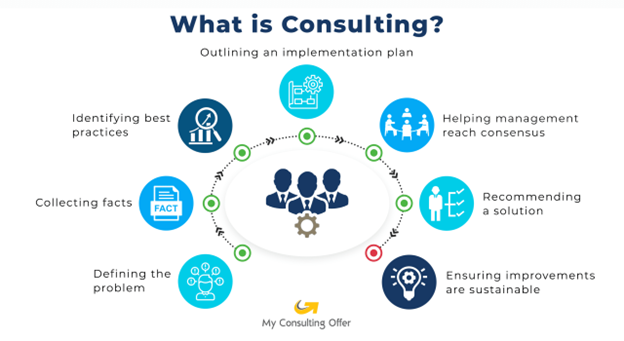 Lumanity's Core Services:
By combining "incisive thinking and decisive action", Lumanity offers new innovative solutions for advancing access to medical devices thereby improving patient outcomes. As an example, the company provides the following to new clients:
 Opportunity assessments – in what ways can the business expand into other disease states? Explore scientific rationale. Define target populations.
 Opportunity search and evaluation – define the project criteria and/or determine the cost of assets to match the business needs at stake.
 Portfolio and platform strategy – analyze and prioritize pipeline portfolio.
 Corporate and partnering strategy – in which ways can a particular business strategy be expanded?
Essentials Skills and Challenges for a Consultant:
There are many transferable skills that a graduate student acquires during their degree that are applicable to a career in consulting. According to an article by Hacking the Case Interview 1, there are 5 essential skills and 5 challenges that candidates should be aware of prior to applying to consulting jobs. The essential skills are tasks you should be able to accomplish after your graduate degree and the challenges are things that a graduate student wouldn't normally be exposed to and therefore must learn before being a consultant.
Essential Skills:
Gather facts and data applicable to the problem at hand
Analyze data and break down problems
Write papers in a clear and concise manner
Present results to stakeholders and describe how to implement results to meet company needs
Demonstrate business acumen
Challenges:
Understand essential business concepts such as, budgeting, forecasting, and strategic planning
Solve problems quickly

       There is a quick turnaround time, and you must be able to address the main issue at hand.

Complete simple math calculations quickly

        PhDs may be used to statistical software's for solving complex math problems. However, simple math calculations during an interview can become troublesome.

Communicate in a way that is simple and easy to understand, without jargon

        You should be able to take complex information from your field and "dumb it down" to become readable to different audiences.

Focus at a high "Executive" level and limit the amount of "nitty gritty" details

        Focus on the business problem at hand and not get bogged down by the minutiae.
What to expect on a consulting interview:
While consulting interviews includes multiple steps, there are three vital aspects that to a successful interview process that are common and listed below.
1. Case Interview
  In a case interview, candidates are not given a lot of time to prepare. You must familiarize yourself with the core services of the company and be able to apply them to different situations and scenarios. The best way to prepare is through practice case studies and situation analysis.
  A great book suggestion is Case in Point 11th Edition: Complete Case Interview Preparation Paperback – June 3, 2020.
2. Behavioral interview component
  For best results, answer questions using the STAR response technique (situation, task, action, and result) when interviewing the hiring manager or more senior level manager.
2. Personal interest interview component
  Explain why you selected consulting as a career and why this firm. Provide evidence and supportive details that explain your rationale.
Next steps for applying:
If your plan is to proceed with a career in consulting, you should consider applying for an advanced degree summer program. The summer program allows you to immerse yourself in what the career will be like in a 1-week crash course format. Here, you will gain insight into the company and career path, network with other consultants and peers, attend a case study workshop, get to know your potential colleagues more closely, and possibly have an advantage over your competition by obtaining an automatic first round interview. A few suggested summer programs highlighted from breakintombb.com include:
*Applications are usually due around April to March.
Life sciences consulting can be an exciting opportunity to work with others and guide companies to accomplish their goals to help their patients and clients. Implementing the aforementioned steps will set you on the path of success. If consulting is the path for you, preparation is key, so let your journey begin!
This article was edited by Junior Editor Sonal Gahlawat and Senior Editor Natalie Losada.
Sources:
Related News