IMSD Alumni
Join us on social media. Reconnect with old friends or network with alumni.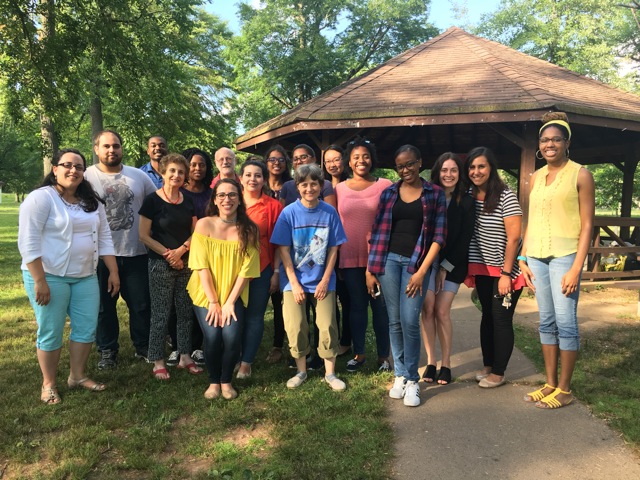 2022 Graduate Alumni
Emily C. Kelly-Castro, Ph.D.
IMSD Fellow
Mentor: Huaye Zhang
Thesis Project: The role of Par1c/MARK1 in synaptic development and cognitive function in mice
Current: Visiting Professor at Lewis & Clark College
Talia M. Planas, Ph.D.
IMSD Associate
Mentor: Cheryl Dreyfus
Thesis Project: The effects of the metabotrophic agonist, CHPG, in mouse models of brain demyelination
Current:
Laina Locket, Ph.D. 
IMSD Associate
Mentor: Henry John-Alder, Ph.D.
Thesis Project: Swimming in troubled waters: Ambient Levels of Common Pollutants have Little Effect on the Regional Distribution and Swimming Behavior of Two New Jersey Anurans.
Current: STEM Teaching Specialist, George Mason University, VA
2021 Graduate Alumni
William Morales-Medina, Ph.D.
IMSD Associate
Mentor: Nicole Fahrenfeld
Thesis Project: Biofilms in Engineered Water Systems 
Current: Research and Development Scientist at American Water Company, NJ
Edgar Ferrer-Gonzalez, Ph.D. 
IMSD Associate
Mentor: Daniel Pilch
Thesis Project: Insight into FtsZ inhibitor and their use against antibiotic-resistant bacterial pathogens 
Current: Scientist, Host-Microbiome, Reckitt Benckiser Company, NJ
2020 Graduate Alumni
Alejandra Laureano, Ph.D.
Mentor: Kelvin Kwan
Thesis Project: The Role Of Transcriptional Elements During Inner Ear Neuronal Development
Current: Post-Doctoral Fellow, Harvard Medical School
Gabriel Villegas, Ph.D. 
Mentor: Isaac Edery
Thesis Project: Biochemical And Functional Analysis of DAYWAKE, A Novel Wake-Sleep Regulator In Drosophila Melanogaster
Current: Assistant Teaching Professor, Dept of Molecular Biology & Biochemistry, Rutgers-SAS
2019 Graduate Alumni
Kumar, Tiger, M.S. 
Mentor: Maureen Barr
Thesis Project: Endogenous gab-28 Is Present in CEMs, RnBs, HOB, And Additional Neurons In The Head
Current: Research Associate II-Analytical Scientist at Catalent
2018 Graduate Alumni
Deanna De Vore, Ph.D. 
Mentor: Maureen Barr
Thesis Project: Extracellular Matrix Regulates Morphogenesis And Function of Ciliated Sensory Organs
Current: Science/Biology Teacher. Passaic County Technical Institute, New Jersey
Olufunmilola (Funmi) Ibironke, Ph.D. 
Mentor: Stephan Schwander
Thesis Project: Air Pollution Particulate Matter Effects On Adaptive Human Anti-mycobacterial Immunity
Current: (we are trying to find where she is)
Julia Bolanle Olayanju, Ph.D. 
Mentor: Bing Xia
Thesis Project: Understanding The Anti-cancer Activity Of Moringa Isothiocyanates In Breast Cancer Cells
Current: MPH student, TH Chan School of Public Health, Harvard
Christina Ramirez, Ph.D. 
Mentor: Ah-Ng (Tony) Kong
Thesis Project: Epigenetic Regulation of NRF2 And Ursolic Acid in Skin Carcinogenesis
Current: Associate Director, Clinical Research Scientist, Insmed Inc
2017 Graduate Alumni
Melvili Cintron Cotto, Ph.D.
Mentor: Nancy Woychik
Thesis Project: Functional Analysis Of Mycobacterium Tuberculosis VapC Toxins
Current: Junior Director, Clinical Microbiology Service, Memorial Sloan Kettering Cancer Center
Lizahira Rodriguez-Colon, Ph.D. 
Mentor: Shridar Ganesan
Thesis Project: A Role For G9a Methyltransferase In The DNA Response Signal
Current: Clinical Scientist at ExecuPharm, on assignment to Merck
2016 Graduate Alumni
Christal Lewis, Ph.D.
Mentor: Helmut Zarbl
Thesis Project: A Transgenerational Study of Exposure To Zeranol, A Dietary Contaminant With Potent Estrogenic Activity
Current: Toxicologist, Avon
Eileen Oni, Ph.D.
Mentor: Ronald P. Hart
Thesis Project: Bioinformatic Analysis Of DNA Methylation In Neural Progenitor Cell Models Of Alcohol Abuse
Current: Health Science Policy Analyst, National Institutes of Health
Eva Rubio-Marrero, Ph.D. 
Mentor: Davide Comoletti
Thesis Project: Structural And Functional Studies of CASPR2, A Molecular Approach Of Autism Spectrum Disorder (ASD)
Current: Senior Scientist, Bristol Myers Squibb
2015 Graduate Alumni
Adenrele Akintobi, Ph.D. 
Mentor: Barth Grant
Thesis Project: Functional Characterization of C. elegans F-BAR protein SDPN-1
Current: PRAT Fellow, National Human Genome Research Institute, NIH
Kristina Hernandez, Ph.D. 
Mentor: Bonnie Firestein
Thesis Project: The Role of NOS1AP, Aschizophrenia Susceptibility Gene, In The Regulation Of Dendrite Branching, Dendritic Spine Formation, And Actin Dynamics
Current: Assistant Scientific Director, MediTech Media
Leonardo Valdivieso-Torres, Ph.D. 
Mentor: Monica Roth
Thesis Project: Isolation And Characterization Of Retargeted Feline Leukemia Virus Envelope Proteins And Isolations Of Host Factors Involve In Envelope Specific Entry
Current: International Sales Manager at USA Scientific
2014 was a banner year for the number of IMSD trainees who completed their degrees or moved on with further training or initial positions.
Allen Alcivar, Ph.D.
Mentor: Bin Xia
Thesis Project: BRCA2 and PALB2 In Cellular Stress Response
Current: Senior Scientist at Bristol-Myers Squibb
Judith Canabal, Ph.D.
Mentor: Sunita Kramer
Thesis Project: Analysis of Two Distinct Functions of the Roundabout 2 Receptor During Drosophila Cardiac Assembly
Andrew Hoffmann, M.S.
Mentor: Michael Verzi
Thesis Project: Enteroid Culture And Its Impact On Stem Cell And Cancer Research
Tiffany King, Ph.D. 
Mentor: Sunita Kramer
Thesis Project: The Cytoskeletal Regulator Enabled Mediates Proper Cardiac Fusion During the Final Stages of Drosophila Dorsal Vessel Formation
Current: Postdoctoral Research Fellow at University of Pennsylvania School of Medicine
Frank Macabenta, Ph.D.
Mentor: Sunita Kramer
Thesis Project: Investigating the Coordinated Expression and Function of the Netrin-Frazzled Signaling Pathway During Drosophila Dorsal Vessel Formation
Current: Postdoctoral Research Scholar at Caltech
Adriana Martin, Ph.D.
Mentor: William Welsh
Thesis Project: Biophysical Characterization Of Novel Amphiphilic Macromolecules: Modeling Membrane Interactions    
Current: Fellow, Cardiovascular Disease, University of Arizona
Letzibeth Mendez-Rivera, M.S.
Mentor: Steven Brill
Thesis Project: The SLX5 Paradox: Expression Of A Sumo-Targeted Ubiquitin Ligase Generates Toxic Poly-Sumo Chains In Yeast       
Current: Laboratory Manager, US Military HIV Research Program              
Winder Perez, Ph.D. 
Mentor: Terri Goss Kinzy
Thesis Project: Mutations in Eukaryotic Translation Elongation Factor 1A that alter Protein Synthesis & Actin Bundling     
Current: Staff Microbiologist, Stryker
Maryann (Poku) Obiorah, Ph.D. 
Mentor: Emanuel DiCicco-Bloom
Thesis Project: Developmental Vulnerability Of The Rat Hippocampus to Methylmercury (MEHG)        
Current: Associate Scientific Director at Vaniam Group        
Felicia Smith, Ph.D.
Mentor: Robin Davis
Thesis Project: The Role of Neurotrophins In Regulating Spiral Ganglion Morphology     
Current: Clinical Coordinator, Epilepsy (Neurology Dept), Univ of Florida Health System, Jacksonville FL   
Connan Vaca, Ph.D.
Mentor: Ramsey Foty
Thesis Project: Fibronectin Matrix- Mediated Inhibition of Tumor Cell Dispersal