M.D./Ph.D. Program
Body
Welcome to the M.D./Ph.D. Program at Rutgers University
Research in medical and biological science relies more on interdisciplinary thought than ever before. The prevalence of team-oriented, collaborative research requires that investigators have the capacity to integrate both the clinical and basic science aspects of medicine. With the rapid growth in the body of knowledge and technological sophistication comes the demand that future physician-scientists receive in-depth training within and across conventional disciplines in order to excel in basic, translational, and clinical research. Our program draws on the diverse strengths and resources of the premier private and public research institutions and healthcare centers in central New Jersey to facilitate a unique academic environment in which students can hone and integrate their clinical and research acumen.
Drawing on experiences in both clinical medicine and basic research, past and present students in our program have investigated the pathologic mechanisms underlying human disease in diverse fields including:
Cancer
Immunology
Genetic basis of disease
Microbiome
Neuroscience
Addiction
Biomedical engineering
Drug design
Inflammation
Infectious disease
Toxicology
In addition to clinical and basic science proficiency, the RWJMS program includes opportunities for professional development, global health work, and the study of health policy and management. Our goal is to ensure that graduates of the M.D./Ph.D. program at RWJMS are uniquely prepared to become leaders in biomedical research, academic medicine, and the prevention of disease.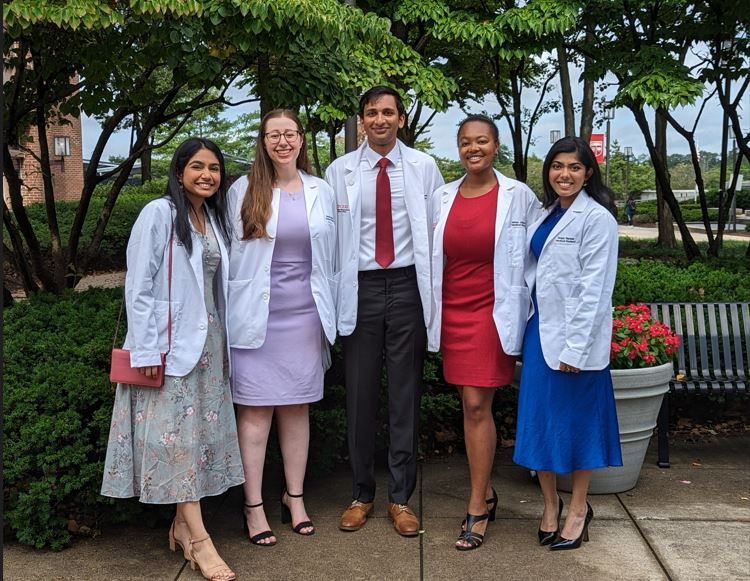 Message From The Directors
Welcome to the Rutgers-Robert Wood Johnson Medical School (RWJMS) Princeton University MD-PhD Program!
Our MD-PhD program is a unique collaboration between Rutgers, one of the largest academic institutions in the country, and Princeton University, a smaller Ivy League institution 20 miles south of Rutgers in Princeton, NJ. Our students are rigorously trained as physicians at RWJMS, and trainees can matriculate into any PhD program across the flagship Rutgers campus in New Brunswick, NJ as well as the Molecular Biology Department at Princeton University.  The program integrates research and medicine at all stages of the trainee's education. Our trainees match at some of the best residency programs and our alumni hold faculty positions at elite institutions.
Our success stems in part from empowering our students to find their true career passion. This is achieved through opportunities that occur during all phases of the program and across universities, but also through addressing individual educational needs. The leadership meets regularly with the students, and a transparent, proactive, professional working relationship is formed. Productive career development discussions occur regularly that benefit both the trainees and the program.
One of the best aspects of the program is our community and how the students come together to help each other, with more senior students advising more junior ones. This continuity in community now extends to our alumni network. We are diverse group in terms of race, gender, sexual orientation, ethnicity and scientific interests. We have learned so much from each other and it is a true joy for us to lead this vibrant community.
Please go explore our website but also feel free to email us with any questions.
Paul R. Copeland, PhD        William Hu, MD. PhD       Dan Notterman, MA, MD     Reynold Panettieri, MD
Co-Director                             Co-Director                        Princeton Co-Director          Director, Clinical and Translational Programs
18%
URM Diversity Students
52%
Percentage of Women In M.D./Ph.D. Program
~50%
students in PhD-phase receive Predoctoral fellowships
7.5 Years
Average Length of Program
3.5
Student publications by the time they graduate Medical School