iJOBS Blog
By: Sonal Gahlawat
Research in industry. Sounds chic and full of hopes and whatnot. But what does it look like? Do they spend all of their time doing experiments on the bench? What about work-life balance? I am sure you want answers to your hundreds of questions about bench positions in industry, so you're in the right place.
This summer the iJOBS industry panel was split into two sessions. While session #1 was illuminating about the various career paths within the R&D, educating on those little tricks and tips that recruiters are looking for, and revelatory about debunking myths on finding your first job after graduate school. Do not worry if you missed out on the chance to attend. You can read about Panel #1 and/or continue reading to learn about panel #2 discussion on bench scientists.
On August 4, 2022, six different panelists from the pharmaceutical and biotechnology industry shared their meandering journey from their last year of graduate school to their current positions.
Dr. Vinam Puri is a Research Scientist II in the Formulation R&D department at Solaris Pharma Corporation, a leading company that focuses on developing high-quality, affordable dermatological products. Vinam has a doctoral degree in Pharmaceutical Science from Rutgers University, where he focused on developing product formulations for topical and transdermal drug delivery. His graduate school experience allowed him to collaborate with industry experts and become familiar with the research happening in different sized companies. He then realized the common theme of science in academia and industry, as well as different roles available in industry. Like every graduate student at the School of Graduate Studies who does not miss a single opportunity offered by the iJOBS program, Vinam also attended numerous events and completed several certificates provided by iJOBS and the Professional Science Master's program (part of the Rutgers Business School). As he was finishing up his thesis research, Vinam worked at Johnson and Johnson in the consumer department as a co-op intern during the days while writing his thesis at other times. Thanks to his excellent networking skills, he landed his first full-time job at Solaris Pharma without even applying for the job; here, he wore multiple hats to hone his skills in regulatory affairs and product development and he loved it.
Dr. Bhargava Nemmaru is a Process Development Scientist at Amgen, a worldwide pioneer in biotechnology that discovers and develops "innovative human therapeutics for patients with serious illnesses." Bhargava graduated from Rutgers University with a doctoral degree in Chemical and Biochemical Engineering, where he explored the area of enzyme designing and engineering for producing biofuels. He also did a lot of protein expression and purification (Sigh! I do know how that feels). All the skills Bhargava gained as a graduate student can be easily transferred to the pharmaceutical or biotechnology industry to produce antibodies, enzymes, and recombinant proteins. Close to finishing his Ph.D. degree, Bhargava started exploring various career options. By attending several iJOBS events, he developed his professional network on LinkedIn and connected to industry professionals to understand what job is the best fit for him. He did multiple informational interviews with professionals, which ultimately helped him get a job referral from one of Amgen's employees. Bhargava advises everyone to do informational interviews; you never know when someone from your network could refer you for your dream job. Bhargava got his offer letter four months before graduating. With the perfect balance of luck, hard work, and timing, he moved to sunny California to leave behind the dead winters of New Jersey. 
Dr. Eric Huselid is a Scientist at Janssen: Pharmaceutical Companies of Johnson & Johnson, a global pharmaceutical company that creates "visionary medicines and healthcare solutions" for a wide range of human disorders. Eric holds a doctoral degree from Rutgers University and Rutgers Cancer Institute of New Jersey, where he focused on drug development to treat glioblastoma, a high-risk area close to Eric's heart. Following his graduation, Eric completed a short postdoctoral research fellowship at the Center for Advanced Biotechnology and Medicine, which helped him boost his resume in terms of productivity, skillset, and publications. Eric's first position in industry was as a Johnson and Johnson contractor, and he got the full-time job within the same team 9 months later. So, a great tip: if you are struggling to have a rewarding graduate school experience, a short postdoctoral experience might be what you need. Eric also explained the concepts behind the contractor positions. Due to heavy workload, contractors mainly aim to increase staffing for a particular project rather than a group. These contractor positions usually last 2-3 years to fulfill the project's needs but can continue on a rolling basis. In short, even though the contracting company will hire you, you might end up working for your dream company.
Dr. Prasad Subramaniam is a Senior Program Manager in Translational Medicine at Genmab, an international biotechnology company specializing in developing "differentiated antibody therapeutics" for treating cancer. Prasad also holds a doctoral degree in Chemistry and Chemical Biology from Rutgers University and designed novel nanomaterials for molecular imaging and drug delivery to malignant tumors. He also worked as a postdoctoral scientist at Ernest Mario School of Pharmacy at Rutgers University for five years while simultaneously building his network and figuring out his short-term and long-term goals. With the mantra of "to get the job in  industry, it's not what you know, but whom you know," Prasad never stopped networking and applied for >1,000 jobs. Seven people recommended Prasad for his first job at Bristol Myers Squib as a contractor. For two years, he focused on building his technical and business skills, which were his main interests, that ultimately allowed him to climb the ladder to become the Strategic Innovation Lead as a full-time employee in the Product Development department. As a leader in his current role in Genmab, Prasad loves helping build organizational structure and provide strategic support. With his persistence, hard work, and networking skills, Prasad has paved his way toward the business development part of science, a goal he has always sought to accomplish.
Dr. Carlos Gracia is a Senior Medical Director at Neon, a full-service healthcare agency part of IPG Health and produces "provocative and groundbreaking killer ideas" that help patients choose the best life-saving treatments. Carlos graduated from Rutgers University with a doctoral degree in Medical Microbiology and Bacteriology and investigated useful, predatory bacteria's role in killing disease-causing bacteria. He identified his first job opportunity through an iJOBS event, where one of the medical communicator panelists saw potential in his communication skills.  The panelist helped Carlos get his first internship in the medical writing field and he subsequently joined GlaxoSmithKline for his second internship, again through iJOBS. He efficiently leveraged his internship experiences, technical skillset, and networking skills to get his first full-time job at the GSW Advertising agency. Once you are in industry, a.k.a. you have industry experience, employers have more faith in your ability to succeed outside of academia, which makes finding a second job easier.  While Carlos is not doing bench science, he extensively uses the skills he gained during his graduate school journey to create innovations with his team, ultimately winning the highly coveted Clio Innovator Award and becoming the first medical director at IPG. In his current role, Carlos works with medical affairs team and medical science liaisons of big pharma companies on promotional materials including social advertisements, brochures, and messages; everything to sell a drug to the target population, right from his home office.
Dr. Robert Dowden is a Scientist I at Admera Health, a leading "precision medicine and molecular diagnostics company." Like our other panelists, Robert holds a doctoral degree in Kinesiology and Health from Rutgers University, where he probed the host-microbiome interactions between exercise and diet, leading to a first-author publication in Scientific Reports. Thanks to his networking skills, Robert joined Genesis Biotechnology as a Research Scientist, where he investigated novel drug targets for treating non-alcoholic steatohepatitis utilizing assay development and compound profiling. Robert loves doing bench work and gets excited about understanding the mechanisms and pathways behind something, but it can be daunting and frustrating at times. While still trying to figure out what he likes, he became more interested in the business aspects of science. Frustrated by the long commuting hours, Robert switched jobs and is currently working at Admera Health, where he regularly interfaces with customers and fellow scientists to ensure the successful completion of product workflows.
In our last panel, graduate students were curious about how research differs in industry vs. academia. While our panelists agreed that funding is more abundant in industry, Vinam argues that it primarily depends on the company's size. Since startups usually have limited resources, a part of Vinam's job includes finding cheaper alternatives for equipment and products, which can include identifying and collaborating with CRO/academic institutions or exploring alternative approaches without compromising research quality. On the contrary, Eric pointed out that large companies tend to follow the "done fast, done right" mantra. Another striking difference is the time spent doing experiments. Suppose one can confidently draw conclusions based on the results of an assay. In that case, there is no point in repeating it to get the perfect or publication-quality image of the results (I am definitely looking forward to this aspect of the science!)
While panelists made it seem like getting that first dream job is "easy as pie" with hard work and networking included, let's not forget the struggle of international students who must manage visa restrictions, worry about getting an H1B before their OPT (Optional Practical Training) runs out, and many other concerns. Graduate students on an F1 visa typically need to apply for OPT to get a work authorization permit before working for any company. The process usually takes 30-90 days, depending on the filing season. Bhargava gave a piece of great advice, which was a relief even for me: pharmaceutical and biotechnology companies work closely with law firms that helps take care of the paperwork, whether it's OPT or H1B or filing for green card application. Amgen automatically enrolled Bhargava for the H1B lottery at the start of the following year and started his green card process after six months of joining. The green card process start date can differ from company to company. He also advised graduating Ph.D.'s to ask the hiring manager visa-related questions as all the companies know this can be an issue. As for Vinam, he is working in a small company and on F1 visa and is considering filing for the green card application for the EB1 category. Smaller companies are usually less likely to sponsor candidates due to limited availability of resources. Since the visa situation changes a lot depending on the political situation, Prasad mentioned to always be up-to-date about the visa regulations and how it affects you. Compared to five years ago, companies are more willing to sponsor a H1B and green card application to be competitive in their fields. In short, always be working on your profile. If you want to understand better what you can do on a visa, check out the iJOBS blog on "International Students and Visas" A Workshop."
Great, you have finished two sessions on bench positions in industry. Even if you think you are not ready to apply for that dream job in sunny California or rainy Seattle or cold Boston, I will say, "you are ready and all prepared!" Before we wrap up our session, let's get some last-minute tips from our highly talented Rutgers' alumni. One great piece of advice came from Vinam: whether you want to do an internship or a co-op to build your LinkedIn profile or just want to explore a role within industry, have that conversation with your advisor and explain your career goals. Think from the advisor's perspective and be flexible to match their/lab's needs. Prasad also recommended doing multiple informational interviews with people from different roles and backgrounds and see what you like. Pick a few roles in which you can see yourself and apply for those positions. Once you are in, you will be able to "expand your skillset and move across functions." Just like us, most of our panelists are still figuring out what they want to do!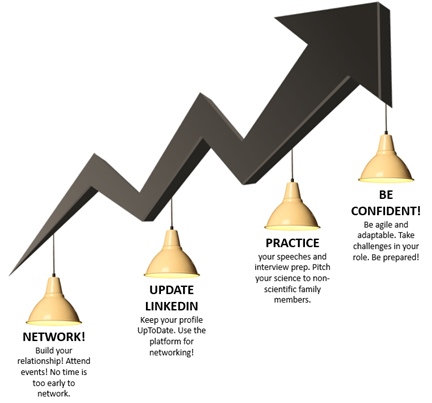 My Thoughts…        
After two intensive and visionary sessions on bench scientists in industry, I feel like I'm ready to take that plunge and start applying for jobs, even though I still have time before I can graduate. The field of bench science can be rewarding for some and daunting for others. The critical question is figuring out our short and long-term goals and creating a path to achieve them. This iJOBS career panel was enlightening, to say the least, both in terms of shedding light on bench scientists as a career and giving us confidence that we have it in us. As rightly pointed out by Robert, if you don't know something, "you are a Ph.D. You are going to figure it out!"
This article was edited by Junior Editor Shawn Rumrill and Senior Editor Natalie Losada.
Related News