iJOBS Blog
By Kiranmayi Vemuri
You just graduated, congratulations! But wait, now you need to find a job! The first thing most people do is make sure their resume and LinkedIn profile are updated and ready. Then you start applying for individual jobs or go through staffing agencies to find that workplace that will be the perfect fit. However, sometimes that perfect job is elusive. What's wrong? Well, despite an illustrious graduate career, maybe your profile is just not standing out. One thing most people forget is that the hiring professionals who look at your profile often come from a very different background than you. So, you need to craft your profile and accomplishments with value proposition statements to make yourself stand out from the crowd.
On June 14, 2022, iJOBS held a captivating workshop on crafting great value proposition statements. It was run by Penny Pearl, the founder and CEO of the coaching and professional development company 2Actify. Penny is an experienced business coach and career strategy consultant and as the head of 2Actify, she coordinates a strategic networking system and coaching program designed to empower individuals during their career search.  Penny is also one of our very own, a Rutgers alumnus in Consumer Services and Nutrition.  Since 2017, she has also been working as a Career Strategy Development Coach for Rutgers iJOBS.
The workshop began with Penny explaining what a value proposition statement is and why it's important. During the hiring process, a recruiter goes through hundreds of resumes and profiles, spending an average 6-10 seconds on each one.  For this reason, it's essential you make your profile magnetic to attract people. One way of doing this is to add a 'Career Highlights' section to your resume, where you would write down 4-5 impactful things you've done. Here is where the value proposition statement comes into play. A good value proposition statement requires you to add outcomes to your contributions, and lets people know how you can be a good resource for them. Penny presented some examples of classic resume statements along with her transformations into effective value proposition statements:
1. One statement seen in many biomedical resumes which tends to be quite generic is:
"Highly motivated individual with strong problem-solving skills. 6+ years of experience in interdisciplinary fields including cancer biosensor development, pharmaceutical sciences, biomedical sciences, and fluorescence nanotechnology."
                When hiring mangers sees this, the first thing that comes to their mind would be "Ok great, but I've seen this statement many times before. Why should I hire this person?" A more eye-catching way of framing this would be:
"During 6+ years of my research in the fields of cancer biosensor development, pharmaceutical sciences, biomedical sciences, and fluorescence nanotechnology, the work I've contributed led to new discoveries and technology developments. In some cases, the research organizations qualified for additional funding."
                This statement adds to your value by showing that your work and effort brought funding to your organization, in addition to highlighting your accomplishments.
2. Another often seen statement relates to communication skills.
"Strong written communication and presentation skills demonstrated by 7 first-author publications and poster presentations at 8 national and international conferences to a multi-disciplinary audience."
                While this statement is great, it comes back to the point made in the first paragraph —hiring professionals come from different backgrounds. So, while any scientist would agree that 7 first-author publications and 8 presentations is a huge achievement for a graduate student, the big question is would the people hiring/interviewing be able to understand that? Maybe or maybe not. So, you need to connect the dots for them and make it easy for them to grasp. Hence, a better way of writing this is:
"My strong written communication and presentation skills led to my selection for 7 first-author publications and poster presentations at 8 national and international conferences resulting in a $1M grant for continued research."
                This re-written statement would really make your resume pop for any layperson as you have shown how much quantitative value you have added for your institution.
Notice in the first example, the proposition statement focuses on qualitative characterizations, while the second is more quantitative. This shows you don't strictly need one or the other to create a great value proposition statement! What matters is that you state your impact by using those value statements to market yourself as the clear candidate of choice.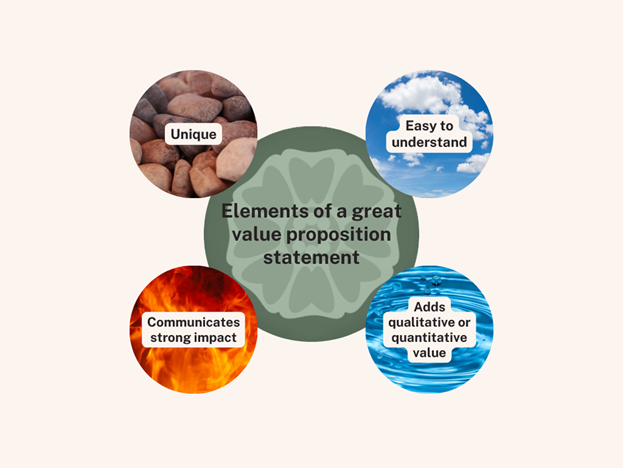 After the introduction, the workshop participants had a chance to craft their own value proposition statements. Penny provided a value proposition worksheet (Link here) which has prompts and examples to help develop your own personal statements. An interactive session followed where some participants had the opportunity to present their statements to the group. Some of the questions which came up during the interactive session pertained to learning how to present some of the day-to-day aspects of graduate life. For example, teaching assistantships and participating in student organizations. Presenting these as a value proposition can add excellent qualitative impact to your resume. If your stint as a TA led to any sort of funding, or if you were able to save money or decrease operational expenses for your student organization, then congratulations! — you also have a quantitative value proposition to present. External fellowships, internal grants, student awards, presentations, publications — all very powerful parts of your profile which you can transform into value propositions.
The final part of the workshop focused on LinkedIn profiles. Penny had some great tips to modify your LinkedIn profiles to add that extra pop. First off, make your banner and headline exciting. This will make people want to look at the rest of your profile. Some great online tools for these are Canva and Fotor which have hundreds of free, professionally designed LinkedIn banner templates. That's half the battle won! Next, focus on the very first 'About' section. Start it off with a paragraph explaining your background and then follow it up with categorizing the key areas you've excelled in. Present those as value propositions. That way, right off the bat, recruiters will be able to evaluate you as a potential candidate. You can also use the 'Featured' section to good effect by adding documents, videos, and presentations, all of which can enhance your value.
It's important to understand that projecting your value is not bragging. Instead, it's building the confidence to be able to state your achievements. Being aware of your value can give you the pleasant problem of having multiple job offers. When this happens, knowing your value can also allow you to confidently negotiate and justify a good salary. The results would be symbiotic – the organization will understand they are gaining an asset by hiring you, while you personally can speed up your career trajectory. Over time, you will feel more confident and become a better asset to the organization. So, what are you waiting for? Add a value proposition statement and improve your resume/profile today!
This article was Junior Editor by Shawn Rumrill and Senior Editor by Natalie Losada.
Related News